Looking for something to serve alongside eggplant Parmesan besides plain ol' spaghetti? Check out this collection of over 20 side dishes to find the perfect pairing. Featuring scrumptious salads, flavorful pastas, and more!
This Italian meal of breaded eggplant slices, Parmesan cheese, tangy tomato sauce, and fresh mozzarella is a fantastic entree for your whole family but still needs a companion dish. 
Whether your eggplant Parmesan recipe is the traditional pan-fried and baked or one made with air fryer eggplant  (or even a vegan version), you'll find a great side dish in this collection of recipes to serve with eggplant Parm.
All of the recipes featured are vegetarian or vegan, and each one is loaded with extra flavor, so you'll hear no complaints from the meat lovers at your dinner table!
Roasted Spaghetti Squash
If this is your first time having spaghetti squash, you're in for a treat: it's a dish that's as fun to prepare as it is to eat! You won't have to struggle to chop up a tough squash into pieces if that's why you've been avoiding this vegetable. This easy recipe shows you how to split it in half, roast it, and scrape the insides for a lovely spaghetti-like texture. It's also a great option for gluten-free diets.
Check out this recipe
Avocado Panzanella Salad by The Sassy Foodie
Tired of eating another boring green salad? This wonderful recipe features crunchy sourdough croutons, a homemade avocado dressing, and fresh burrata cheese. Watch out – your guests might devour it before the eggplant casserole dish is finished!
Check out this recipe
Creamy Orzo with Lemon and Peas by Profusion Curry
Orzo pasta is one of the best comfort foods but it's also the perfect choice to accompany your eggplant parmigiana. This recipe combines tangy lemon with garlic and fresh basil to give the rice-like orzo and delightful green peas plenty of oomph.
Check out this recipe
Instant Pot Fettuccini Alfredo by Piping Pot Curry
Good food does not take a long time to make. This exquisite, creamy pasta dish comes together in under 30 minutes, and clean-up is a breeze!
Check out this recipe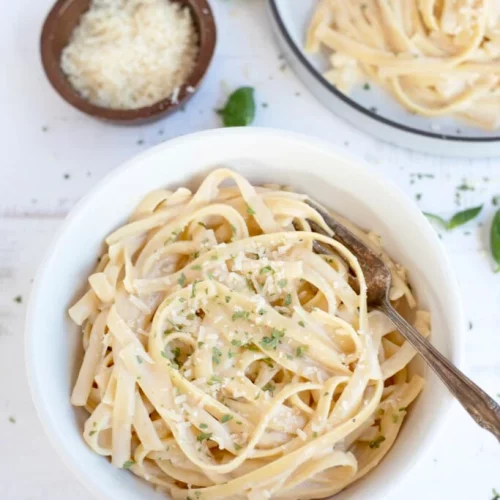 Lemon Basil Rice by Balance with Jess
This simple Italian dish combines lemon juice and basil with rice for a fluffy, tasty pilaf. For best results, swap out regular rice for long-grain rice like basmati or jasmine.
Check out this recipe
Edamame Salad by Greedy Gourmet
Of course, you can enjoy edamame by itself – it's a hearty, nutritious snack. But you can also turn it into a fresh salad that goes amazingly well with your eggplant dish. Don't forget to blanch the beans first – eating raw edamame is not safe.
Check out this recipe
Mushroom Crostini by Happy Kitchen
This decadent cheese and mushroom appetizer makes a fabulous side dish for your eggplant parmesan. It's so good that you may even want to eat your crostini with a knife and fork!
Check out this recipe
Tenderstem Broccoli with Garlic by Somebody Feed Seb
If you've never heard of tender stem broccoli, you may know it by its more popular name: broccolini. This beautiful dish is packed with nutrients, and can be ready for the dinner table in under 10 minutes. 
Check out this recipe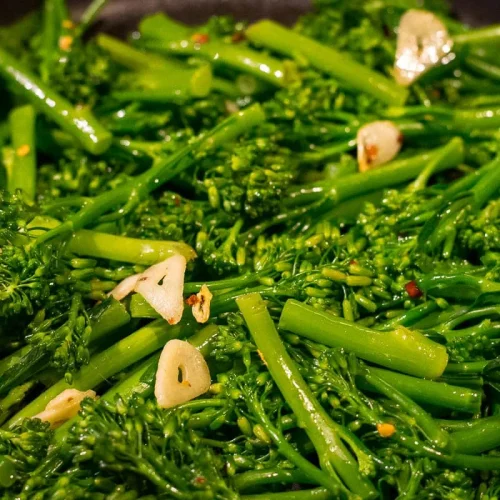 Fresh Green Bean Salad by The Rustic Foodie
This is a scrumptious salad of crisp green beans, tomatoes, and almonds in a balsamic vinaigrette – your taste buds will be thrilled! Also learn how to choose the freshest beans and how to keep the beans crunchy after blanching them.
Check out this recipe
Garlic Bread by Vegan Punks
You could grab a large baking sheet, pop a loaf of Italian bread on it, roast it in the oven, and hope for the best. Or you could carefully follow these expert tips for making garlic bread and you will get sensational results every time! But go easy on the garlic…
Check out this recipe
Vegan Beyond Meatballs Recipe
We start with Beyond Beef's minced plant-based meat, add a little nutritional yeast, and finish with a few essential ingredients for a true vegan umami experience.
Check out this recipe
Creamy Lemon Pasta by Bakerita
The pasta in this awesome recipe is brown rice spaghetti, but you can use any noodle you like. The rich taste comes from coconut milk, and the lemon/garlic/shallot combination is superb. It's also topped with a mixture of toasted bread crumbs and herbs. Feel free to add extra veggies or keep it simple for your eggplant entree.
Check out this recipe
Herbed Roasted Potato Salad by Through the Fibro Fog
A potato salad without mayo!? This delicious recipe features a simple olive oil dressing with herbs and vinegar, poured over roasted potatoes. While it's ideal for a BBQ, it would love to be served with your eggplant main dish.
Check out this recipe
Greek Salad by Veg Buffet
Well, you have to see it to believe it. This non-traditional Greek salad uses guavas and mangoes instead of olives and skips the olive oil for a light, refreshing side dish. It's a tropical twist that works well and your eggplant parm won't complain either.
Check out this recipe
Garlic Broccoli by Joy Filled Eats
Fresh lemon juice, the best olive oil you can buy, and a dash of garlic powder make this broccoli dish a mouthwatering companion to your eggplant Parmesan. 
Check out this recipe
Kale Caesar Salad by Debra Klein
Kale is the antioxidant superstar in this recipe but chickpeas is the worthy underdog. This splendid duo is topped with a flavorful vegan caesar salad dressing, making the whole dish irresistible! 
Check out this recipe
Italian Salad by Zardyplants
Here's a salad created by a true salad lover. If you're a big fan of the Olive Garden combo of olives, croutons and pepperoncini with a creamy Italian dressing, you'll adore this vegan version.
Check out this recipe
Baked Asparagus by A Sweet Alternative
If asparagus is a staple in your household, this recipe might change your mind. Balsamic vinegar, with its sweet and tangy flavor, transforms a slightly bitter vegetable into a dish that you'll want to make again and again.
Check out this recipe
Arugula Salad with Roasted Sunflower Dressing by Braised and Deglazed
Arugula is an Italian classic with a bitter, spicy taste. The flavors really take off in this 'rocket' salad that mixes the peppery herb with sunflower seeds, croutons, tomatoes, and an unforgettable sunflower dressing.
Check out this recipe
Mashed Cauliflower Potatoes by Garlic, Salt and Lime
We know how versatile this vegetable is but don't forget the original recipe that started a revolution of low-carb eating: mashed cauliflower 'potatoes'! It's easy to prepare this yummy meal, especially since you can puree it until you have the right consistency.
Check out this recipe
Roasted Cherry Tomato Caprese Salad by It's Not Complicated
If you are constantly reaping lush red and gold bulbs from your tomato patch, count yourself lucky and make this tomato caprese salad to celebrate your green thumb! Or just buy a pint of adorable supermarket tomatoes – we won't tell! 
Check out this recipe
Vegan Lemon Risotto
Maybe you've been frustrated in the past with gloppy or burnt Arborio rice that didn't quite make it to risotto status. Don't worry – this recipe has step-by-step instructions and tips on getting it right. Soon, you'll be happily stirring up delicious earthy flavor and lemon zest in your creamy, perfectly-cooked risotto.
Check out this recipe
More Side Dish Collections
©Watch Learn Eat. All content on this page is copyright protected and is not to be used or republished without prior permission. Images shown in this post are used with permission from the owner(s).