Crispy chicken smothered in a sticky sweet and savoury sauce with crunchy cashews. I use the 'one bowl method' to coat the chicken (rather than dipping in separate bowls of egg, cornflour and seasoning) and it works brilliantly!
Serve this for Friday night dinner and you won't be disappointed.
It also reheats really well – so you can make ahead too!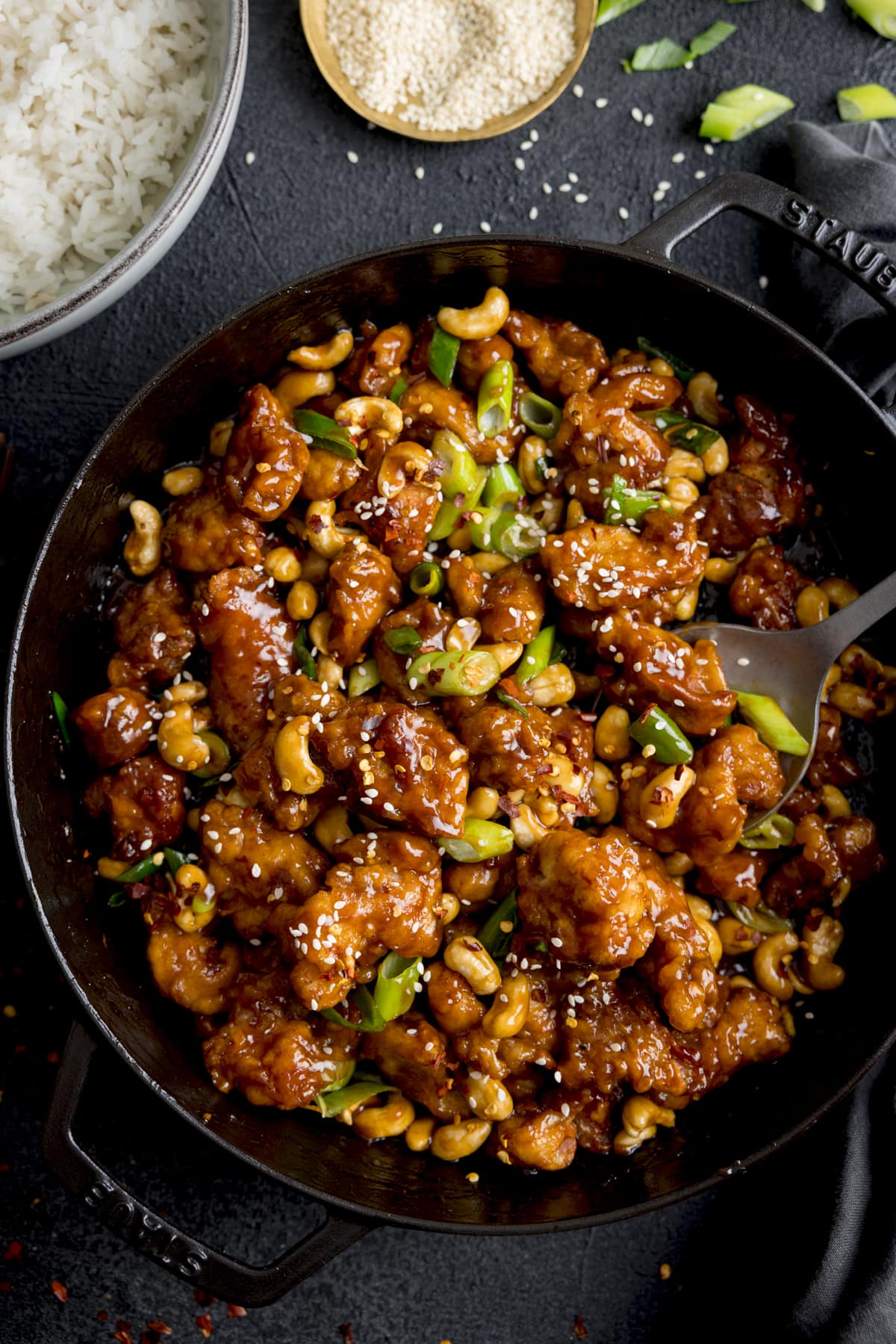 Jump to:
I always try to keep some chicken thigh fillets in the freezer so I can whip up fakeaway meals like this when the family are feeling particularly fussy about dinner.
This cashew chicken, my honey garlic chicken and salt and pepper chicken are my chicken-thigh go-to recipes.
The chicken thighs are coated in egg, cornflour and seasoning (I do it all in one bowl to save on washing up) then fried to crisp perfection.
Then we heat up an easy sauce and add the fried chicken and cashews, along with a few chopped spring onions (scallions).
It's so satisfying, and there's never a drop left!
📋 What do we need?
For the crispy chicken:
The chicken thigh fillets are chopped into bite-size pieces. You can replace with chicken breast if you like, but I find chicken thighs hold up better to the high-heat frying, so they're more juicy in the middle.
For the sticky cashew sauce and toppings:
📺 Watch how to make it
Full recipe with detailed steps in the recipe card at the end of this post.
**Jump to Recipe for full instructions and quantities**
First we coat the chicken in egg, then stir in cornflour, paprika, salt and white pepper. Fry in oil until crisp.
Next we make a sauce by combining sesame oil, cornflour, soy sauce, garlic, brown sugar, hoisin sauce and stock. Mix it together, transfer to a pan and bring to the boil while stirring.
The sauce should thicken very quickly. At that point, add in the cooked chicken, cashews and chopped spring onions (scallions). Stir it all together so that lovely sauce clings to the crispy chicken. Then serve.
👩‍🍳PRO TIP If you'd prefer to use an Air Fryer to fry the chicken, check out the notes section of the recipe card at the bottom of this post for instructions!
---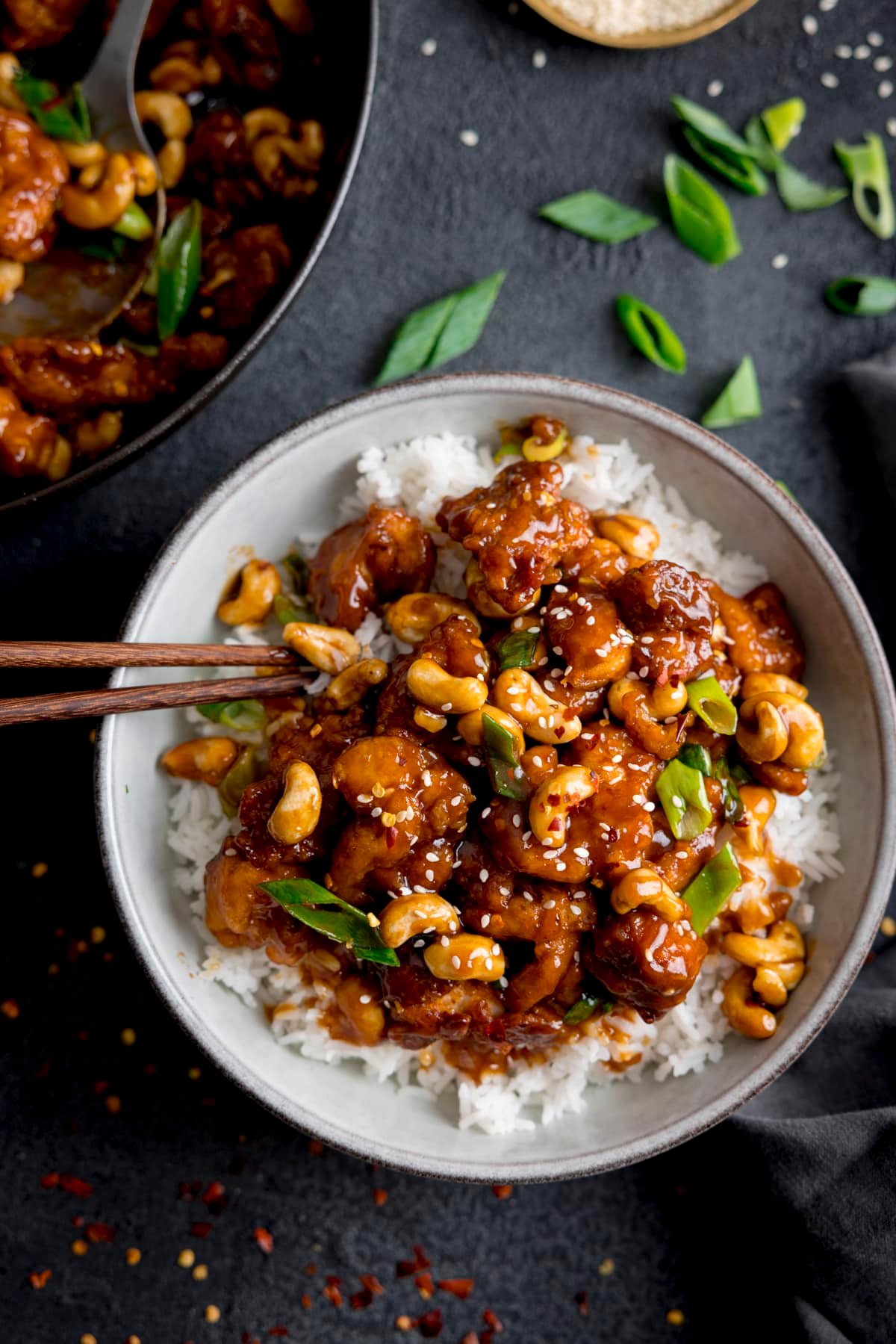 I love to serve mine on top of lots of fluffy rice and finished with a sprinkling of sesame seeds, chilli flakes and chopped spring onions.
---
🍲 More fantastic Saucy Chicken recipes
Stay updated with new recipes!
Subscribe to the newsletter to hear when I post a new recipe. I'm also on YouTube (new videos every week) and Instagram (behind-the-scenes stories & beautiful food photos).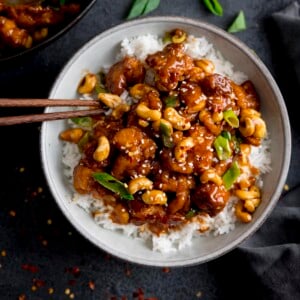 Sticky Cashew Chicken
Crispy chicken smothered in a sticky sweet and savoury sauce with crunchy cashews. Perfect for Friday night dinner!
INSTRUCTIONS 
Place the chicken in a bowl with the egg and mix together to coat. Drain off any excess egg from the bowl and discard.

6 skinless, 1 small egg

Add the cornflour, paprika, salt and white pepper to the bowl with the chicken and mix together. You should end up with a sticky coating on your chicken.

4 tbsp cornflour, ½ tsp paprika, ¼ tsp salt, ¼ tsp white pepper

Heat the oil in a large frying pan or wok, over a medium-high heat, until hot.

Oil for shallow frying

Add the chicken, and stir fry until golden. This should take about 7-8 minutes. You might need to do this in two batches, depending on the size of your pan.

While the chicken is cooking, make the sauce.

Place the cornflour, light and dark soy sauce, garlic and hoisin sauce in a bowl and mix together until the cornflour is absorbed.

1 tbsp cornflour, 2 tbsp light soy sauce, 1 tbsp dark soy sauce, 2 cloves garlic, 3 tbsp hoisin Sauce

Add the light brown sugar, sesame oil and chicken stock to the bowl and stir together until combined. Put to one side.

2 tbsp light brown sugar, 1 tbsp sesame oil, 120 ml (½ cup) chicken stock

When the chicken is cooked through, remove from the pan with a slotted spoon and place on a plate lined with kitchen paper to absorb any excess oil.

Carefully discard the oil, then pour the sauce into the pan and heat through until bubbling.

Add the chicken into the pan, then add in the cashews and half of the chopped spring onions.

140 g (1 cup) cashew nuts, Small bunch spring onions (scallions)

Stir together for 2 minutes, to heat through the cashews, then serve with rice. Sprinkle with the remaining spring onions, the sesame seeds and a pinch of chilli flakes.

1 tsp sesame seeds, Pinch of chilli flakes
✎ Notes
Can I make it ahead?
This recipe does taste best when cooked and served right away, but I've also made it ahead several times and it reheats really well. The chicken will retain some some crunch, but won't be quite a crunchy as if it was freshly cooked.
You can make ahead in two ways:
Method 1 – Make the whole recipe:
Make the cashew chicken, then cool, cover and refrigerate for up to a day.
Reheat in a pan over a medium heat, stirring regularly until the chicken is hot throughout. This should take about 10 minutes.
You may need to add a splash of stock or water to loosen the sauce when reheating.
Method 2 – Prep the sauce and cook the chicken, then assemble and heat:
Make the sauce ahead (no need to heat it) and cover.
Cook the chicken, then cool, cover and refrigerate for up to a day.
When ready to cook, fry the chicken in a tablespoon of oil over a medium heat for 5-6 minutes to heat through.
Turn up the heat to high and pour in the sauce. Stir together and allow to bubble, then add the cashews and spring onions and stir together to coat.


Ingredient swaps
Swap out the chicken for pork (use thin slices of pork tenderloin or fillet)
Add a splash of hot chilli sauce (such as sriracha) for a heat kick
Add veggies, such as green beans, small pieces of broccoli or peppers. Fry them in the pan in a drizzle of oil for a few minutes, then add the sauce, chicken and cashews.

How to scale up and scale down this recipe
You can scale up or down the recipe using the same ingredient ratios.
If scaling up, you will likely need to cook the chicken in 2 or 3 batches, so the cooking time will take longer.
Want to use your air fryer?
Instead of frying the chicken, you can cook the chicken in the air fryer.
Preheat the air fryer to 200C/400F and grease the basket of the air fryer.
Add the chicken – try to separate it a little with a set of tongs.
Fry the chicken for 12-14 minutes, shaking the air fryer basket half-way through cooking. Ensure the chicken is cooked by slicing open the largest piece you can find and ensuring it's hot and no longer pink in the middle.
Heat the sauce in a pan and add the cooked chicken, along with the cashews and spring onions, as per the rest of the recipe.
Some of the links in this post may be affiliate links – which means if you buy the product I get a small commission (at no extra cost to you). If you do buy, then thank you! That's what helps us to keep Kitchen Sanctuary running. The nutritional information provided is approximate and can vary depending on several factors. For more information please see our Terms & Conditions.
Reader Interactions