Strawberry Karachi Halwa is the classic Karachi halwa with a twist made with the exotic flavors of fresh juicy strawberries.
As the festivals are approaching, what could be better than to try a new and exciting sweet dish, a variation of classic Karachi halwa called Strawberry Karachi Halwa.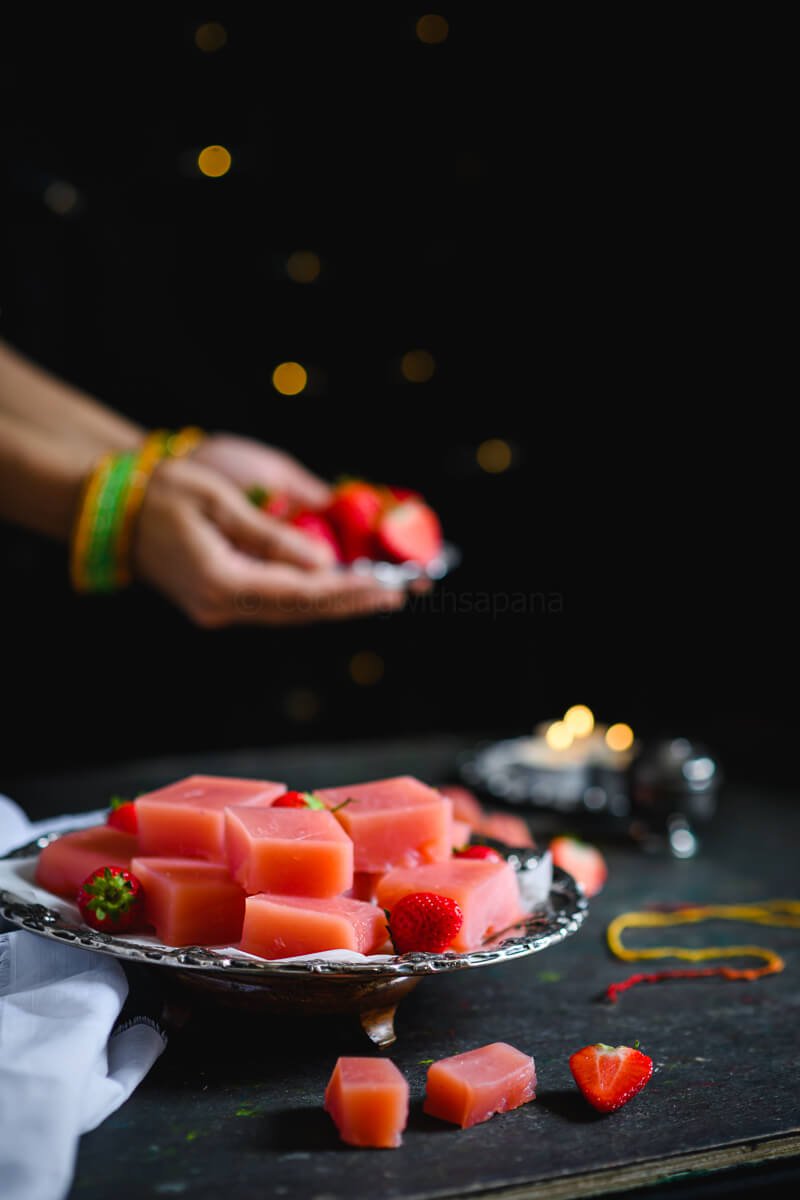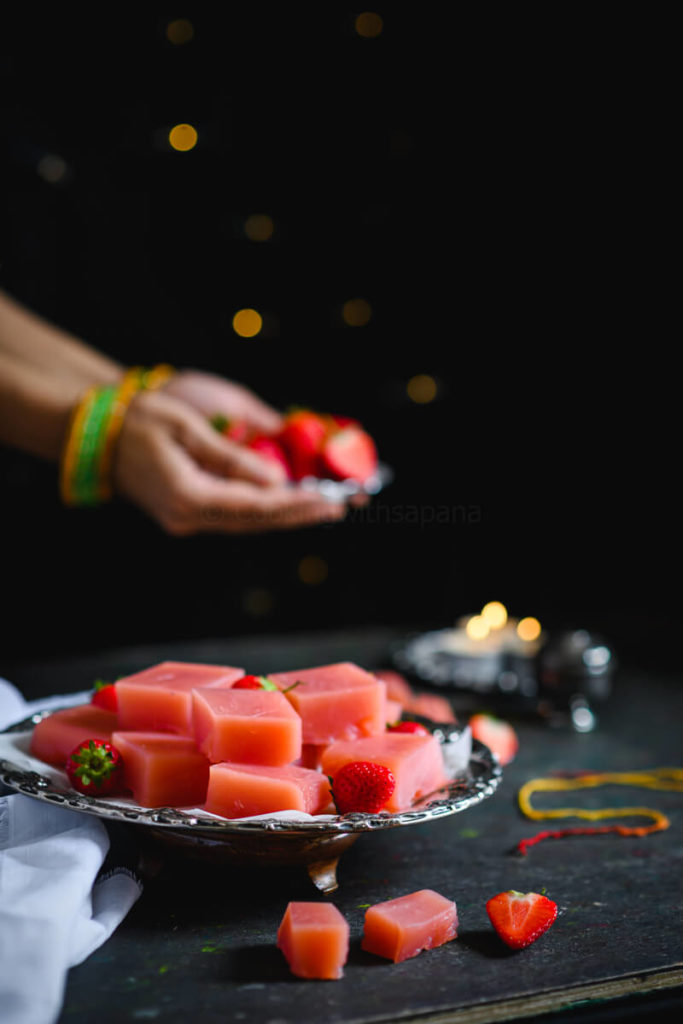 Karachi Halwa
Karachi halwa or often known as Bombay halwa is a popular sweet dish of cornflour halwa made by Punjabi Halwais who moved to Mumbai from Karachi. This melt-in-mouth cornflour halwa is considered an assorted sweet.
I remember my aunt used to bring this Karachi halwa, mostly on Rakshabandhan. Those shiny golden pieces were used to wrap in butter paper, and we kid always wanted to grab just those pieces, ignoring all other sweets from the box. That's how delicious, Karachi Halwa is.
Strawberry Karachi Halwa
Strawberry Karachi halwa is another variation of the popular Karachi halwa with the bursting flavors of strawberries in the regular corn flour halwa. Normally, Karachi Halwa is made from corn flour, sugar, ghee, and nuts. This recipe goes a step further and utilizes fresh strawberries in the Karachi Halwa recipe with no need for food color. Imagine how heavenly, already delicious Karachi Halwa would be, bursting with flavors of fresh strawberries.
Can this halwa be made VEGAN?
Well, to be frank halwa always tastes best in ghee or clarified butter. But if you really are looking to make it Vegan, I would suggest using an odorless oil.
Ingredients needed for Strawberry Karachi Halwa
Cornflour: The white cornflour or sometimes sold as cornstarch is used to make this halwa.
Sugar: Plain granulated sugar.
Water: The amount of water has to be exact.
Ghee: Clarified butter/ghee or Oil.
Strawberry: Fresh strawberries, washed and top removed. Make pure with hte fresh strawberries.
How to make Strawberry Karachi Halwa
The process of making strawberry Karachi halwa is very simple but it sure does needs some patience. First of all grease the baking tray with clarified butter. Make cornflour and strawberry batter with water and keep them aside. Now cook the sugar in water until it has melted. Once the sugar is melted, add cornflour batter into the sugar, stirring continuously on low heat.
Now cook the Karachi halwa on low heat, stirring continuously until it starts thickening. Once it has thickened slightly, start adding ghee in equal batches. Make sure to let the ghee absorbed by the halwa and then add the next batch.
Cook, while stirring until the halwa is transparent. Then transfer it into the prepared baking tray and let it sit for 3-4 hours at room temperature.
Once set, cut into pieces of the desired shape. Store in an airtight container, wrapped in plastic or butter paper.
Serving Suggestions and Variations
Serve the Strawberry Karachi halwa as it is or with a tall glass of Almond Milk, or with Festive thali. Make it with Kaju katli, balushahi, and besan ladoo and prepare your own assorted sweet box, this Raksha Bandhan.
Pro Tips
Make sure to mix the cornflour with water completely, the batter should be lump free.
While adding the cornflour mixture into the sugar, keep stirring as it tends to stick at the bottom.
You may use any flavoring in the halwa, like rose water, cardamom or saffron.
Do not stop stirring or else the halwa will stick at the bottom.
Like Strawberry Halwa, try these recipes….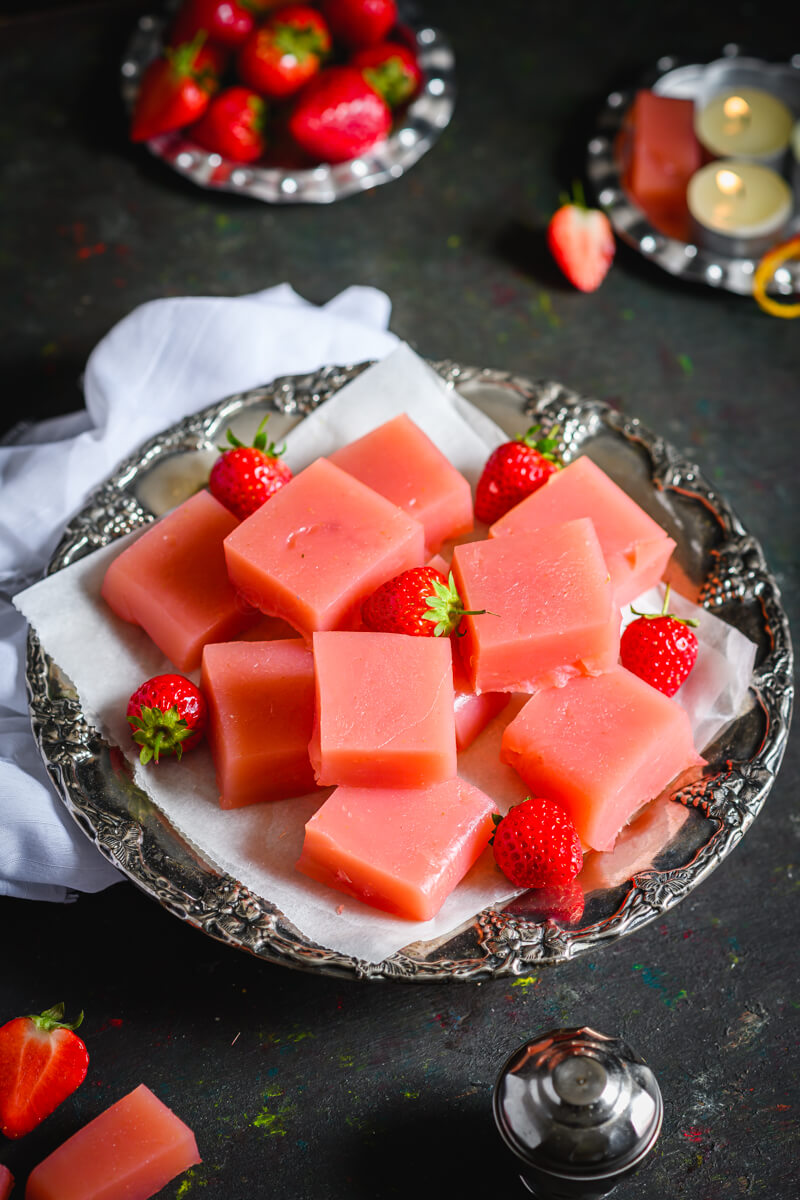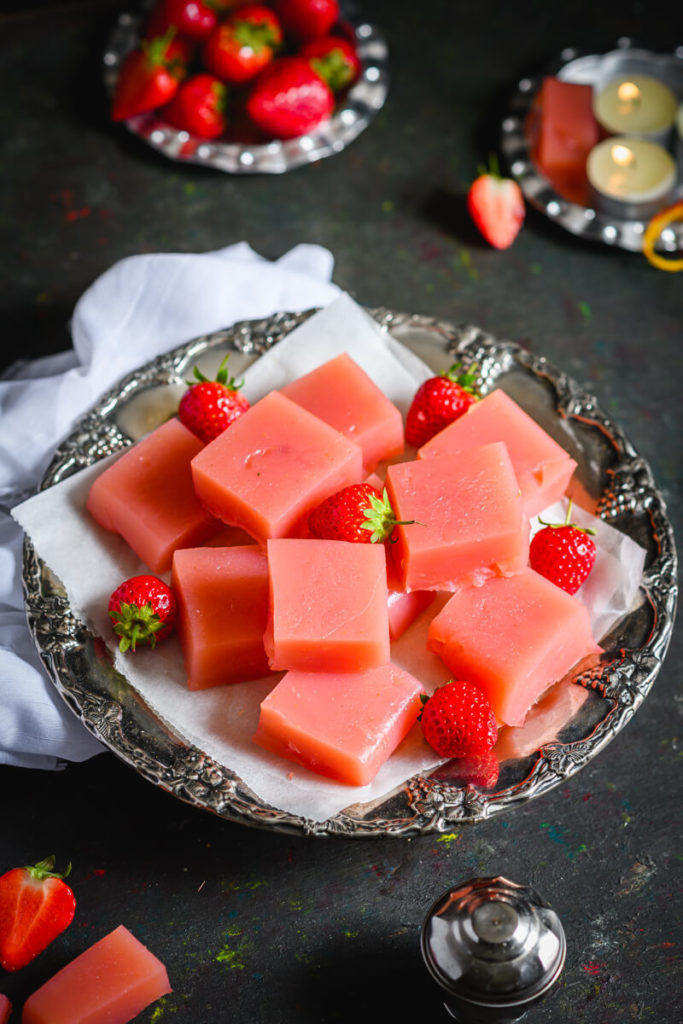 Looking for more such sweets recipes to get some ideas for your desserts? Do not miss my Malai Ladoo and Moong Dal Ladoo and the best one's Besan Pista Barfi.
*If you ever try this recipe don't forget to share your photos with me on Facebook, Pinterest, Twitter or tag me on Instagram @cookingwithsapana using the hashtag #cookingwithsapana and stay connected* I would love to see your creations from my space!!
Did you watch the recipe video, if not do check it now and see how easy this recipe is? Like the video, do Subscribe to my YouTube Channel for amazing video recipes.
Recipe Card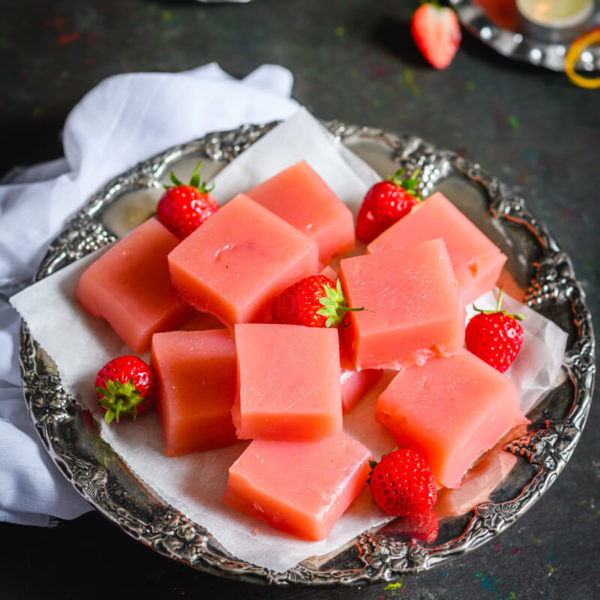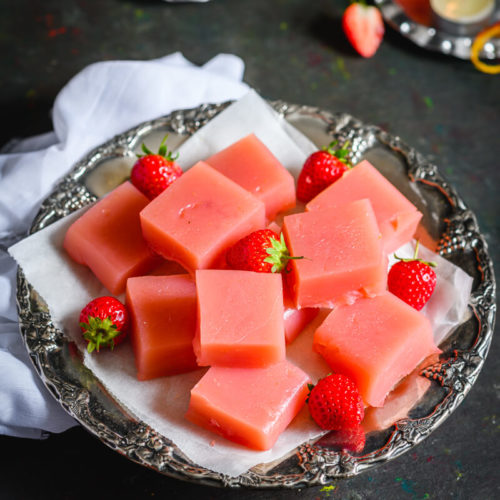 Strawberry Karachi Halwa
Sapana Behl
The classic Karachi halwa with a twist is made with the exotic flavors of fresh juicy strawberries.
Mixing Bowl

Saucepan

Baking Tray
1

cup

cornflour/corn starch

3/4

cup

sugar

2

cups

water

1

cup

strawberry puree

2

tablespoon

ghee
Grease an 8×8″ square baking tray with ghee and set aside.

In a mixing bowl add cornflour, one cupof strawberry puree and one cup of water. Mix well to combine and make a lump free smooth batter.

In a wok or pan add sugar and a cup of water. Let it cook until sugar is melted.

Once sugar is melted add the cornflour batter slowly, while stirring continuously into the sugar syrup.

Cook on low heat, stirring continuously until the cornflour starts thickening.

As the cornflour starts thickening, add a tablespoon of ghee and stir to mix the ghee completely with cornflour mixture.

Repeat the same step one more time and in all add 2 tablespoons of ghee.

Once the ghee is absorbed by the cornflour mixture, cook on low until it becomes transparent.

Finally transfer the halwa into the prepared baking tray.

Let it sit for about 3-4 hours at room temperature.

Once set, remove from the tray and cut into square pieces.

Wrap them in baking paper sheets and store.
Always let me know how this recipe turned out in the comments below and give a ★ rating. I will be so excited to hear how you enjoyed your Strawberry Karachi Halwa and please do share your tips and tricks with me.
Don't forget that you can also find me on Facebook, Twitter, Instagram, and  Pinterest.
Best Regards,
Sapana Behl