I am a participant in the Amazon Services LLC Associate Program, an affiliate advertising program designed to provide a means for me to earn fees to Amazon.com and affiliate sites.
Ginger Ale Brown Sugar Ham is an easy 3 ingredient ham glaze recipe. This Easter ham will be wonderful for your ham dinner.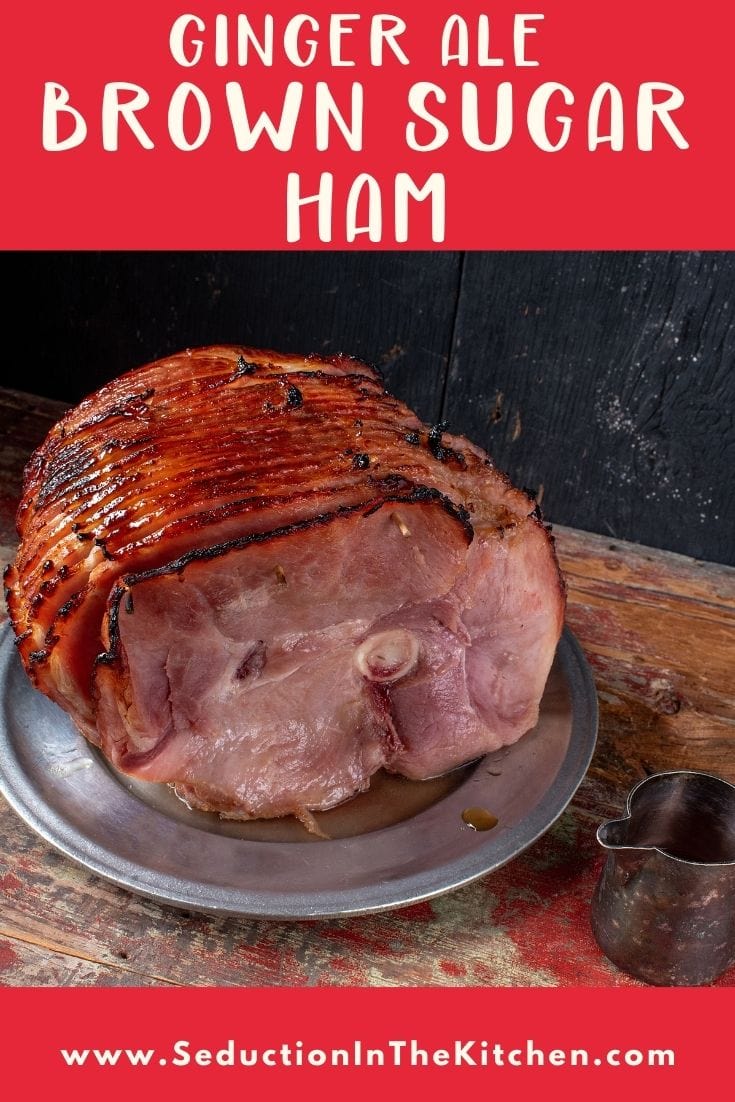 Ham dinner
How often do you have a ham dinner? In my family, we only have a ham dinner at Easter.  My mother's ham had this wonder glaze that her mother would make.
It was a simple ham glaze my mother would do. The Ham glaze has only 3 ingredients and my mom never measure the amounts. She was the type that knew it was right by just a simple taste.
When I asked, where did she get this wonder ham dinner recipe from, she claimed her mother had made it from an old recipe on the back of a ginger ale bottle when she was a child.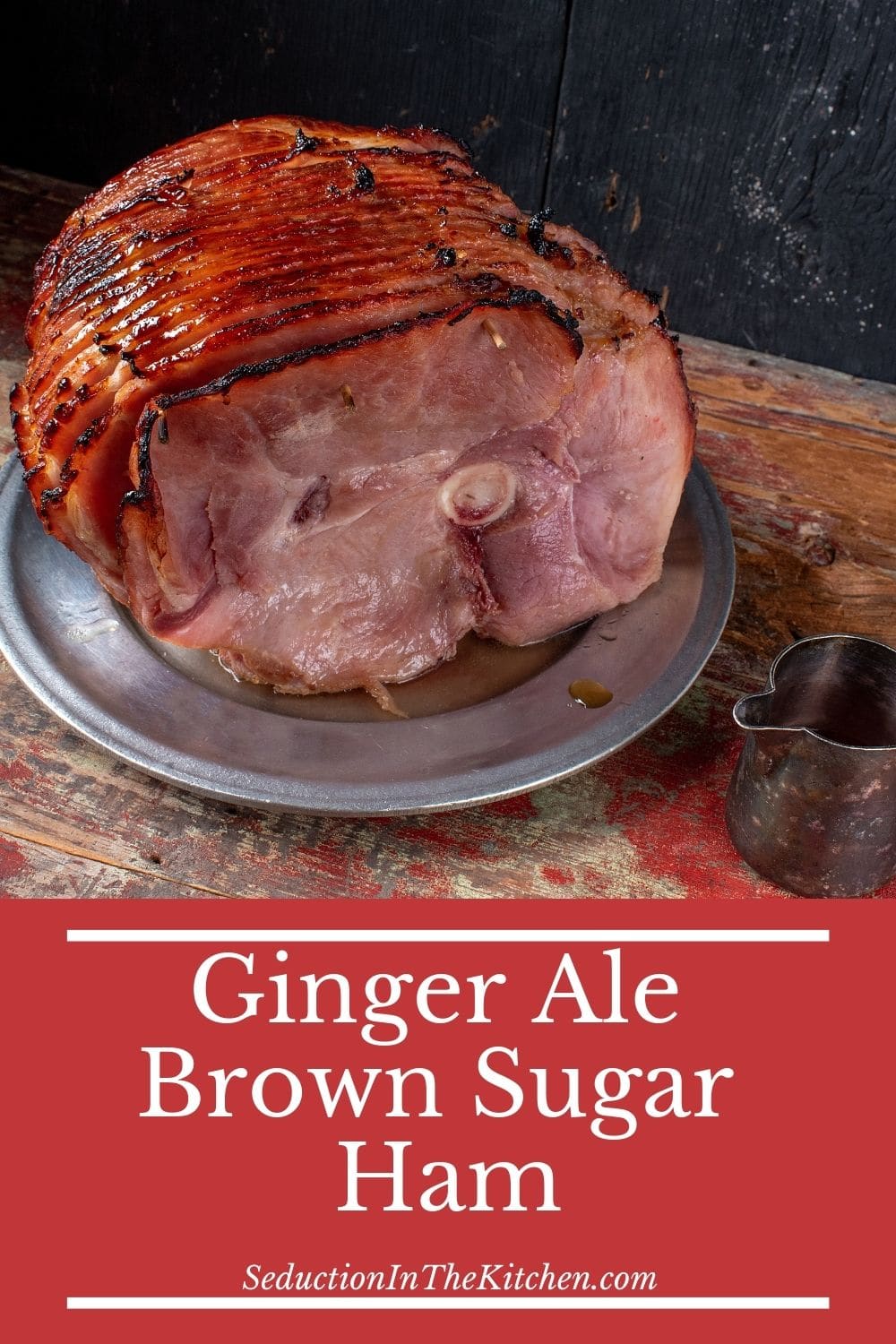 Best ham glaze
When my mom would put what I consider the best ham glaze on her Easter ham, the house smelled so heavenly as the ham baked. After the Easter ham was done baking, she would reserve the ham dripping with that ham glaze mixed in for us to dip the pieces of ham into as we ate.
That is why I think this ginger ale recipe is the best ham glaze. You really want to savor your ham in it with the "ham juice" as my sister would call this dipping sauce my mom would put on our holiday table that was made from the brown sugar ham glaze.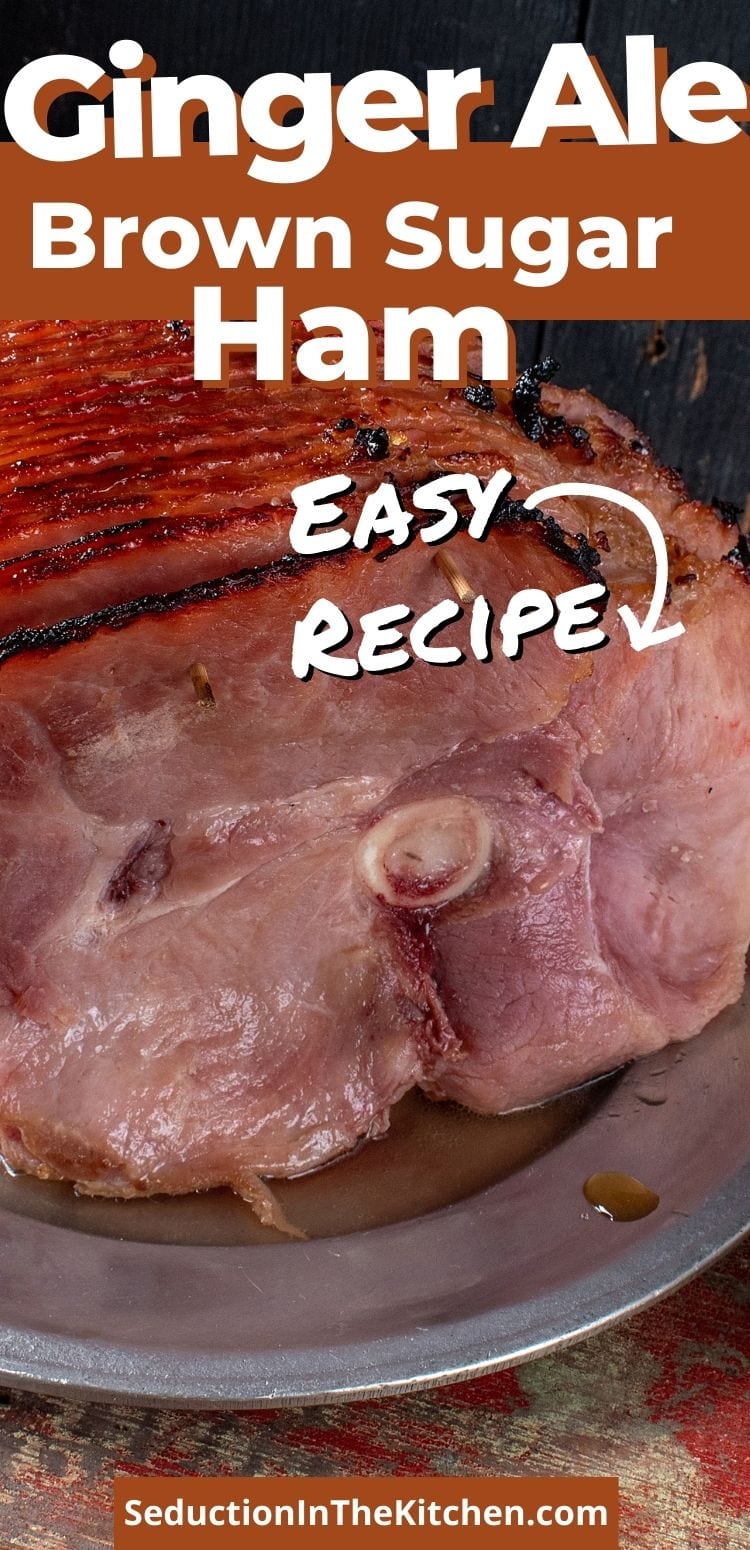 3 ingredient ham glaze
Another reason I feel this holiday ham recipe has the best ham glaze is that it is not a hard recipe. In fact, this is such an easy ham recipe that it is only a 3 ingredient ham glaze.
This 3 ingredient ham glaze has:
Ginger ale
Brown sugar
Mustard
When I asked my mom where she got this ham glaze recipe from, as mentioned she said her mom from an old Vernon's ginger ale bottle when she was a child. I have searched for that recipe but never could find it.
I knew my mom only made our ham dinner with a 3 ingredient ham glaze. I knew what ingredients she used. I think my grandmother may add the mustard as her own touch.
Of the 3 ingredients in the ham glaze recipe, mustard was the only ingredient I can never find in this 3 ingredient ham glaze online in the search for a Vernon's Ginger Ale recipe. 
Ginger Ale helps with the saltiness of the ham. Brown sugar brings the sweetness, and the Mustard brings a little bit of the zing to this 3 ingredient ham glaze.
Looking for more ham recipes? Check out these recipes:
Prep Time
10 minutes
Cook Time
3 hours
Total Time
3 hours 10 minutes
Ingredients
8 lb ham
1 cup ginger ale
2 tablespoons prepared mustard
1/2 cup light brown sugar
whole cloves (optional)
Instructions
Preheat oven to 350 degrees.
Combine the ginger ale, brown sugar, and mustard together in a separate bowl, set aside.
Score the ham, and add the whole cloves if desired.
Place the ham in a shallow roasting pan and pour the glaze over the ham.
Roast the ham for about 2 1/2 to 3 hours, depending on your ham instructions for the weight you bought.
Occasionally, spoon the juices over the ham as it roasts in the oven.
Take the ham out and ENJOY!
Recommended Products
As an Amazon Associate and member of other affiliate programs, I earn from qualifying purchases.
Nutrition Information:
Yield:
14

Serving Size:
1

Amount Per Serving:
Calories: 392Total Fat: 13gSaturated Fat: 2gTrans Fat: 0gUnsaturated Fat: 7gCholesterol: 166mgSodium: 2560mgCarbohydrates: 11gFiber: 0gSugar: 11gProtein: 58g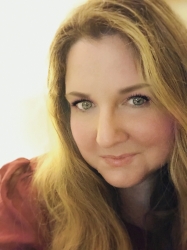 Latest posts by Deanna Samaan
(see all)