Headed to a potluck party or planning one and not sure what vegan potluck recipes to start with? Well, look no further friends, we've got over 35 amazing vegan recipes that you can make!
After looking through this whole post, you'll have plenty of ideas on what a vegan can bring to a party or potluck (and many non-vegans won't even know the difference), and you'll be able to have a variety of dishes you could serve at a potluck where vegan guests will be attending!
So, without waiting any longer, let's get to all of these amazing easy vegan potluck recipes that you can serve at a party, bring to a party, or just use to find new favorite vegan recipes!
So it's easier to navigate, I'm breaking this fabulous, long list of vegan potluck recipes into two categories: Savory Vegan Potluck dishes and Sweet Vegan Potluck recipes. Check them both out as I'm sure you'll find a few new recipes to give a try.
Savory Potluck Vegan Dishes
Vegan Potato Salad
This vegan potato salad is perfect for all your summertime feasts from barbecues to picnics! Easily made oil-free when using our homemade tofu-based vegan mayo or cashew mayo.
Check out this recipe
Healthy Baked Beans by The Daily Dish
No molasses or sugar needed for these tasty baked beans. This recipe features a touch of maple syrup and a smoky chipotle paste.
Check out this recipe
Easy Vegan Cheese Ball by Courtney's Homestead
This Vegan Cheese Ball is like no other one out there – it actually tastes like a cheddar cheese ball. Vegan cheese balls are perfect for dunking crackers or tortilla chips into at your next potluck or holiday!
Check out this recipe
Vegan Charcuterie Board by Make It Dairy Free
You may think that charcuterie boards that are typically covered in meats and other animal products are off the table for vegans, but get excited because you can make a beautiful vegan charcuterie board with these 10 helpful tips.
Check out this recipe
Carrot Greens Pesto Cold Pasta Salad by Our Plant Based World
This delicious side is the perfect way to use up those leftover carrot top greens to use in a pesto pasta salad that's yummy served hot or cold.
Check out this recipe
Vegan Cauliflower Ceviche by Veggies Save The Day
Here's a vegan take on the popular Latin American dish, featuring red onions, cauliflower, jalapenos, tomatoes, and of course lime and cilantro! Perfect for your next summer bbq!
Check out this recipe
Vegan Ranch Pasta Salad by VNutrition
This easy recipe is ready in only 20 minutes and uses real, healthy plant-based foods like tempeh, carrots, and peas to enhance a classic vegan pasta salad.
Check out this recipe
Vegan Stuffed Bell Peppers by Clean Plate Mama
These vegan stuffed peppers are bursting with flavor from the quinoa, beans, sweet corn, and alllll the spices. They're ready in 25 minutes and are such an easy potluck idea that everyone will love.
Check out this recipe
Vegan Baked Mac and Cheese by From The Comfort Of My Bowl
Baked mac n cheese is always a comfort meal side dish that you can never go wrong with. Now you can make this vegan version with all the best vegan cheese flavors out there.
Check out this recipe
Warm Pasta Salad by Healing Tomato
This pasta salad is made with red pepper strips, a vegetable medley, spinach or cauliflower gnocchi, the best homemade sauce, and more to craft the perfect side dish.
Check out this recipe
Spaghetti Salad by The View From Great Island
This dish uses red onion, cherry tomatoes, beans, corn, and a handful of other common ingredients to make a garlic pasta dish that everyone will enjoy.
Check out this recipe
Vegan Pesto Pasta Salad by This Healthy Kitchen
Light delicious this pesto pasta salad is made from rotini, heirloom tomatoes, pea pesto and some fresh basil. Top it all off with some toasted almonds and this is a summer potluck dish to be reckoned with.
Check out this recipe
Vegan Pimento Cheese by My Quiet Kitchen
This classic cheese spread takes a vegan twist and has a secret ingredient to give it that texture that you expect from Pimento. Dippable, spreadable, and great for potluck parties!
Check out this recipe
Vegan Stuffed Shells by No Sweat Vegan
Another comfort meal that everyone at your potluck will enjoy. These vegan shells are stuffed with almond ricotta, basil, and spinach to create that classic Italian dish you love.
Check out this recipe
Vegan Lentil Lasagna
Lasagna is one of those easy meals that's great for serving a large crowd, especially something like a potluck. Made with a dairy free version bechamel sauce, oven ready lasagna noodles, a seasoned almond ricotta, and a delicious lentil pasta sauce, this vegan lasagna will not disappoint.
Check out this recipe
Raw Cauliflower Salad With Lime by Debra Klein
This healthy and nutritious side salad is packed with a variety of textures and sprinkled with lime juice for a delicious flavor.
Check out this recipe
The Best Vegan Potato Salad You'll Ever Eat by Rainbow Plant Life
Skip the mayo, this healthy potato salad is made with coconut yogurt. It's just as filling as regular potato salad, but is better for you and is bursting with more flavor.
Check out this recipe
Cowboy Caviar by Karlie Cooks Plants
This Southwest inspired refreshing side dish is made with black beans, corn, bell peppers, red onion, cumin seeds, herbs, and lime juice. It's the perfect dip like food to dip your chips into!
Check out this recipe
Rainbow Pasta Salad by Vegan Dollhouse
Serve up a large bowl of the most colorful vegan pasta salad you've ever seen! This hearty vegetable cold salad is as delicious as it is beautiful.
Check out this recipe
Vegan Cheesy Broccoli Rice Casserole by Health My Lifestyle
This fantastic casserole is made with whole food ingredients, like broccoli, basmati rice, coconut milk, breadcrumbs, spices, vegetable broth, and nutritional yeast to give it that cheesy flavor.
Check out this recipe
Vegan Mexican Street Corn Salad by Strength and Sunshine
This dish is everything you love about Elotes (Grilled Mexican Street Corn) paired with fresh herbs and a tangy, creamy, and cool sauce!
Check out this recipe
10 Minute Garlic Bok Choy by The Forked Spoon
This flavorful Bok Choy is one of those vegetarian potluck recipes you didn't expect to fall in love with- sooooo much flavor and so simple to make!
Check out this recipe
Easy Chickpea Thai Quinoa Salad by VNutrition
This quinoa salad uses simple ingredients to maximize on flavor and texture. You'll find chickpeas, carrots, cabbage, and cilantro alongside the quinoa to create a masterpiece.
Check out this recipe
Avocado Pasta Salad
This avocado pasta salad features a creamy arugula-avocado dressing in place of mayonnaise for a flavor-packed side dish without any added oils! This nutritious and unique pasta salad is naturally vegan and can easily be made gluten-free. Perfect for cookouts, potlucks, picnics and parties!
Check out this recipe
Sweet Vegan Potluck Ideas
Fresh Fruit Salad with Poppy Seed Dressing by Veggie Fun Kitchen
Here's a delicious fruit salad made with fresh cut pineapple, blackberries, strawberries, cantaloupe, and kiwis, all tossed with a tangy, tasty poppyseed dressing.
Check out this recipe
Dark Chocolate Hummus by A Sweet Alternative
This decadent potluck dessert is wholesome ingredients and is absolutely delicious and addictive.
Check out this recipe
Vanilla Lemon Bundt Cake by Any Reason Vegans
This perfect bundt cake is tasty and simple to make with lemon and vanilla that will make everyone want a slice of cake.
Check out this recipe
No Bake Vegan Key Lime Pie by Strength and Sunshine
Who doesn't love a slice of key lime pie, especially over the hot summer! It's so refreshing and tart. This 5 ingredient no bake pie will be a huge hit for sure!
Check out this recipe
Cherry Almond Thumbprint Cookies by Unconventional Baker
Everybody loves them thumbprint cookies filled with a gooey delicious jam filling! These cookies are the perfect potluck or picnic dessert.
Check out this recipe
Scotcheroos Peanut Butter Rice Krispies Treats by Veggie Fun Kitchen
These are just like the classic treat that everyone loved as a kid except they've been taken up a level with the addition of peanut butter and vegan chocolate to make them a new favorite dessert recipe that everyone will adore.
Check out this recipe
Vegan Lemon Strawberry Cheesecake by The Vegan Larder
This vegan cheesecake has a delicious cookie like base, with a contrasting smooth and tangy cheesecake filling, topped with a sweet strawberry topping. It's the perfect summer dessert recipe to take to get together, parties, and potlucks!
Check out this recipe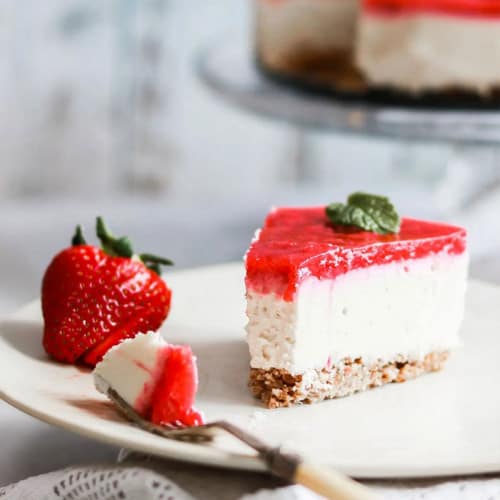 Vegan Gluten Free Brownies by Addicted to Dates
You can't have dessert without having delicious brownies, amIright?! These gooey, fudgy brownies are gluten free, dairy free, vegan, eggless, and are rich and decadent with chocolate flavor.
Check out this recipe
Banana Chocolate Chip Snack Cake by Homemade In The Kitchen
An irresistible vegan snack cake made with overripe bananas and your favorite vegan chocolate chips!
Check out this recipe
Best Chocolate Fudge by Happy Kitchen
Now you can enjoy rich and luscious, creamy, decadent chocolate fudge with this easy recipe that takes less than an hour.
Check out this recipe
Vegan Funfetti Sugar Cookies by Savor The Spoonful
You don't have to chill this cookie dough to make these buttery vanilla sugar cookies with the bright and colorful sprinkles.
Check out this recipe
Vegan Lemon Pound Cake by From The Comfort Of My Bowl
This soft, moist, and dairy free vegan pound cake has a nice zesty lemon tangy twist that's irresistible.
Check out this recipe
Vegan Chocolate Cake by It's Not Complicated
This quick and easy chocolate cake is gooey, decadent, rich, and bursting with all the best chocolaty flavor. Plus, it only takes 40 minutes to whip up this tasty dessert.
Check out this recipe
Now that we've covered over 35 absolutely delicious dishes, I'm sure you have found a few new savory vegan potluck recipes and sweet vegan desserts to bring to your next potluck, get together, or party.
©Watch Learn Eat. All content on this page is copyright protected and is not to be used or republished without prior permission. Images shown in this post are used with permission from the owner(s).