Are you looking for some healthy snacks for your kiddos? Maybe you have a picky kiddo or two, or you're tired of serving the same vegan snacks for kids all the time. In this roundup post, we are sharing various healthy vegan snacks for your kids so when they say they're hungry, you have plenty of options for them to choose from!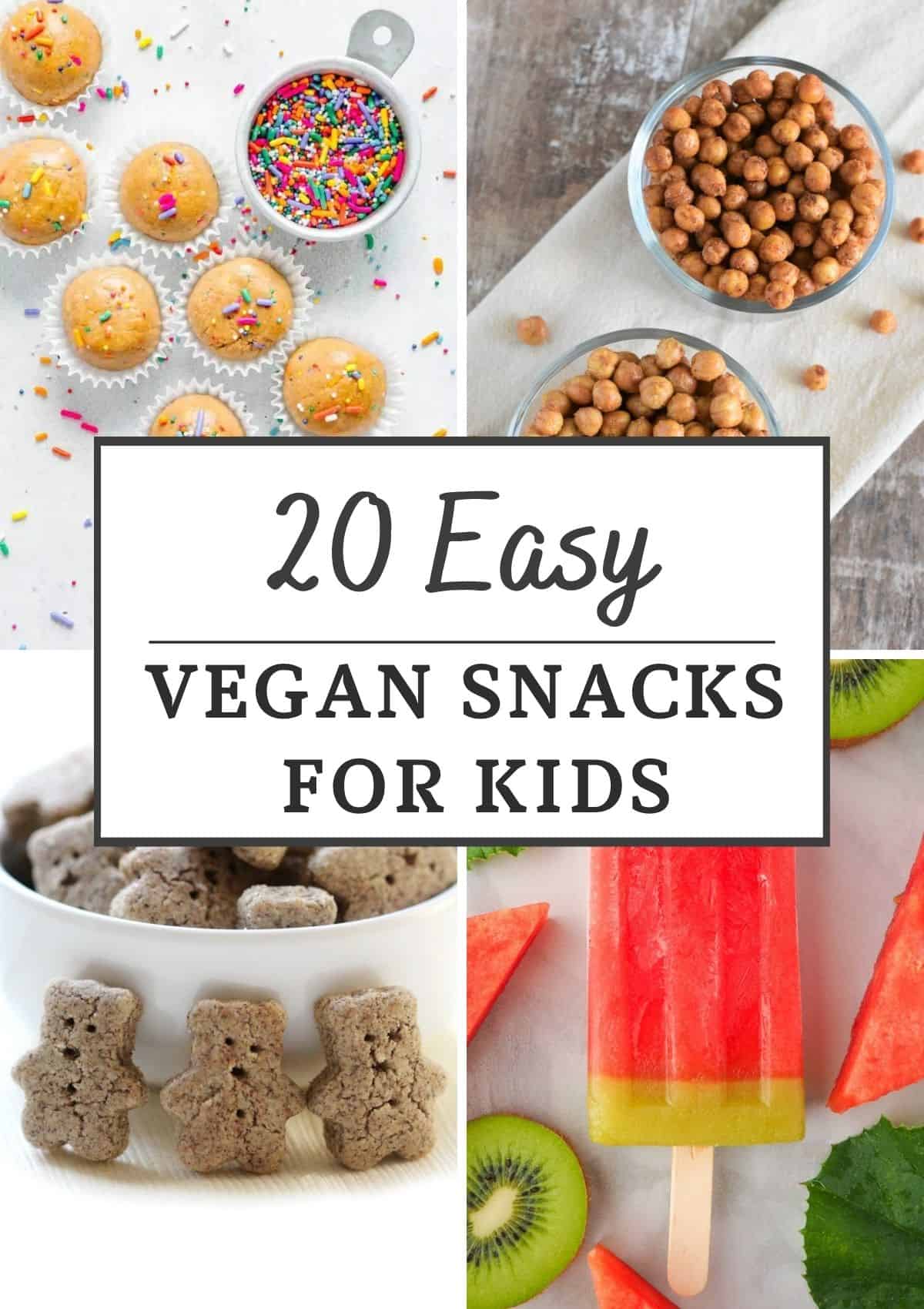 When kids eat vegan, they don't just have to live on veggie sticks, bell peppers, celery stalks and the same ol' fresh fruit!
With all of these kid-friendly vegan recipes and options, they are bound to find the best vegan snacks out there.
You'll find both savory snacks and sweet vegan snack ideas on this list- a little something for everybody!
Forget the junk food and run through this list of vegan snacks to find a few new favorites for the kids (and you!) to try this week.
They're great for after-school snacks, snacks to pop in your bag for last-minute road trips, or just snacks to have on hand when the kids get hungry between meals.
Air Fryer Chickpeas
Crispy, crunchy, and absolutely delicious. You can make these Air Fryer Chickpeas in four different flavors to choose from. Enjoy this healthy and fast snack in under 15 minutes! Chickpeas aren't just for hummus anymore.
Check out this recipe
5-Ingredient No-Bake Granola Bars by Healthy My Lifestyle
Making your own granola bars is super easy with this recipe. Ditch the store-bought bars from the grocery stores and let the kids eat these as a healthier alternative and feel no guilt about it! Plus you only need 5 healthy ingredients, they're gluten free and vegan, and you don't have to bake them, I call that a huge win!
Check out this recipe
Apple Juice Popsicles by Through the Fibro Fog
With only 3 ingredients, these apple juice popsicles are sweet and satisfying. A perfect snack!
Check out this recipe
Homemade Gluten-Free + Vegan Goldfish by Strength and Sunshine
Kids go crazy for Goldfish, now with this easy snack recipe they can eat those Goldfish again and you don't have to worry about all the hidden ingredients, unnecessary sugar and other ingredients. These fish still have a cheesy flavor because of the nutritional yeast so even the picky eaters will still be all about these at snack time.
Check out this recipe
Healthy No Bake Bars by A Virtual Vegan
These homemade bars are a great snack to take on the go for the whole family. You don't have to worry about turning on the oven to make them and they are super simple enough to make that you can make a double batch, enjoy one batch now and freeze the second batch for later.
Check out this recipe
Vegan Peanut Butter and Strawberry Energy Bites by Conflicted Vegan
Grab your food processor because these energy balls are a fun way for the kids to get the important nutrients without them actually knowing they're getting them! They just think they're getting a tasty strawberry and peanut butter flavored snack!
Check out this recipe
Blueberry Oatmeal Cups by Running On Real Food
These baked yummy Blueberry Oatmeal Cups are the perfect snack. They're ready in under a half hour and you only need one bowl and a few simple ingredients to make them! These cups are the perfect size for little hands to hold and enjoy.
Check out this recipe
Watermelon Ice Lollies by Keep Calm And Eat Ice Cream
These are homemade watermelon popsicles made from only 3 ingredients and no added sugar. Popsicles are perfect all year long, but they're especially perfect during the warm summer months. Make these popsicles and send the kids outside to enjoy some fresh air while they eat these Ice Lollies and you don't have to worry about them getting the whole house sweet and sticky as they snack.
Check out this recipe
Air Fryer Bananas by Cook Eat Live Love
These bite size snacks are made with coconut oil, cinnamon, sea salt, and bananas! Simple and ready in only 15 minutes! Don't be surprised at how fast they seem to disappear whenever you make them.
Check out this recipe
Chocolate Chip Cookie Dough Bites
Who doesn't love a sweet treat like this? This is a great option that the whole family will fall in love with. Perfect for movie night or an everyday snack, this snack only needs 6 ingredients and can be made in one bowl, making clean up in the kitchen even easier (always a win in my book). These cookie dough bites are the perfect vegan snacks for all to enjoy.
Check out this recipe
The Best Vegan Chocolate Pudding by Zardyplants
Who doesn't love creamy and rich chocolate pudding? I don't know any kids (or adults) that will turn down this chocolate pudding snack, especially this vegan option! You'll love how fast and simple it is to make chocolate pudding. You can also add this recipe to your dessert menu.
Check out this recipe
Rice Cake with Peanut Butter and Chocolate by Plant Based Folk
These rice cakes went viral on TikTok and for good reason- it has 2 incredibly popular flavors when put together- chocoalte and peanut butter. This healthy treat is a great way to satisfy that sweet tooth with a healthy snack that the kids will go crazy for!
Check out this recipe
Sweet Potato Vegan Edible Cookie Dough by Bucket List Tummy
This cookie dough dip is always a hit. It is one of those healthier snack options that does not necessarily feel healthy! Anytime you say cookie dough, all the kids come running. Now, make this edible cookie dough dip and watch how fast they flock to the kitchen.
Check out this recipe
Zucchini Apple Carrot Muffings by My Plantiful Cooking
These muffins are a great vegan breakfast idea and are also a nutritious snack you can serve the kids. Healthy muffins are moist, fluffy, and packed with fruits and vegetables.
Check out this recipe
Easy Homemade Hummus Recipe by The Salt and Sweet Kitchen
Making your own hummus has never been so easy. You just need chickpeas, tahini paste, garlic, fresh lemon juice, water, salt and pepper, and olive oil. That is it, super simple recipe to follow to make your own hummus at home!
Check out this recipe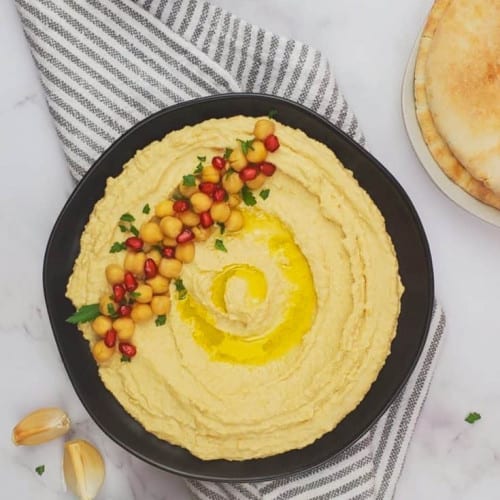 Nut Free Chocolate Spread by A Sweet Alternative
This chocolate spread is great for those with nut allergies since it's nut free. You only need a few minutes to whip this up and then you can use it on sandwiches, to dip in, or whatever else you typically use storebought chocolate spread in or on.
Check out this recipe
Homemade Barbecue Potato Chips by Homemade In The Kitchen
It isn't as hard as you think to make your own healthy bbq chips! Thin, crispy, crunchy, and flavorful, the kids are going to love these chips for an afternoon snack.
Check out this recipe
Funfetti Protein Bites by Best Served Vegan
These dessert snacks are packed full of protein and are made with only 8 ingredients. Use your favorite plant based protein powder to whip up a batch of these tasty treats.
Check out this recipe
Homemade Gluten-Free Teddy Grahams by Strength and Sunshine
Your kids will go crazy for these homemade little Teddy Grahams. They're allergen friendly and you can make them in a variety of flavors to choose from! You don't have to worry about the kids fighting over the little packs of Teddy Grahams any more! Just make a double, or even triple batch of these tasty snacks and you will be set and ready for when the next snack craving hits.
Check out this recipe
Chocolate Larabar Recipe by The Pretty Bee
You only need 5 ingredients for these copycat larabars. You can even make them in multiple different flavors from this one recipe!
Check out this recipe
Now that you've been through these 20 different vegan snacks for kids, I'm sure you found a few new ones, or 5 to try, lol.
With so many great options to choose from, I don't know how you're going to know where to start.
Perhaps, you can let the kids read through this list and see which one spikes their interest and start from there.
You can easily scan the aisles of your local grocery store and find a handful of snacks for kids that are vegan.
But, I feel like they'll love these homemade snacks a lot more than they would the prepackaged snacks that you can pick up at the store.
Plus, many of these recipes are easy enough that the kids can help make them or even try to make the whole thing on their own!
Don't be afraid to let the kids get creative and help you in the kitchen.
You'll not only be making delicious snacks, but you and your kids will be making fun, fantastic memories together in the kitchen, making their newly found, fun and delicious snacks.
More Vegan Recipe Collections
©Watch Learn Eat. All content on this page is copyright protected and is not to be used or republished without prior permission. Images shown in this post are used with permission from the owner(s).