Here is a collection of our favorite Cucumber Recipes to try this summer! Crisp, cooling and refreshing cucumbers are low in calories and delicious in many things!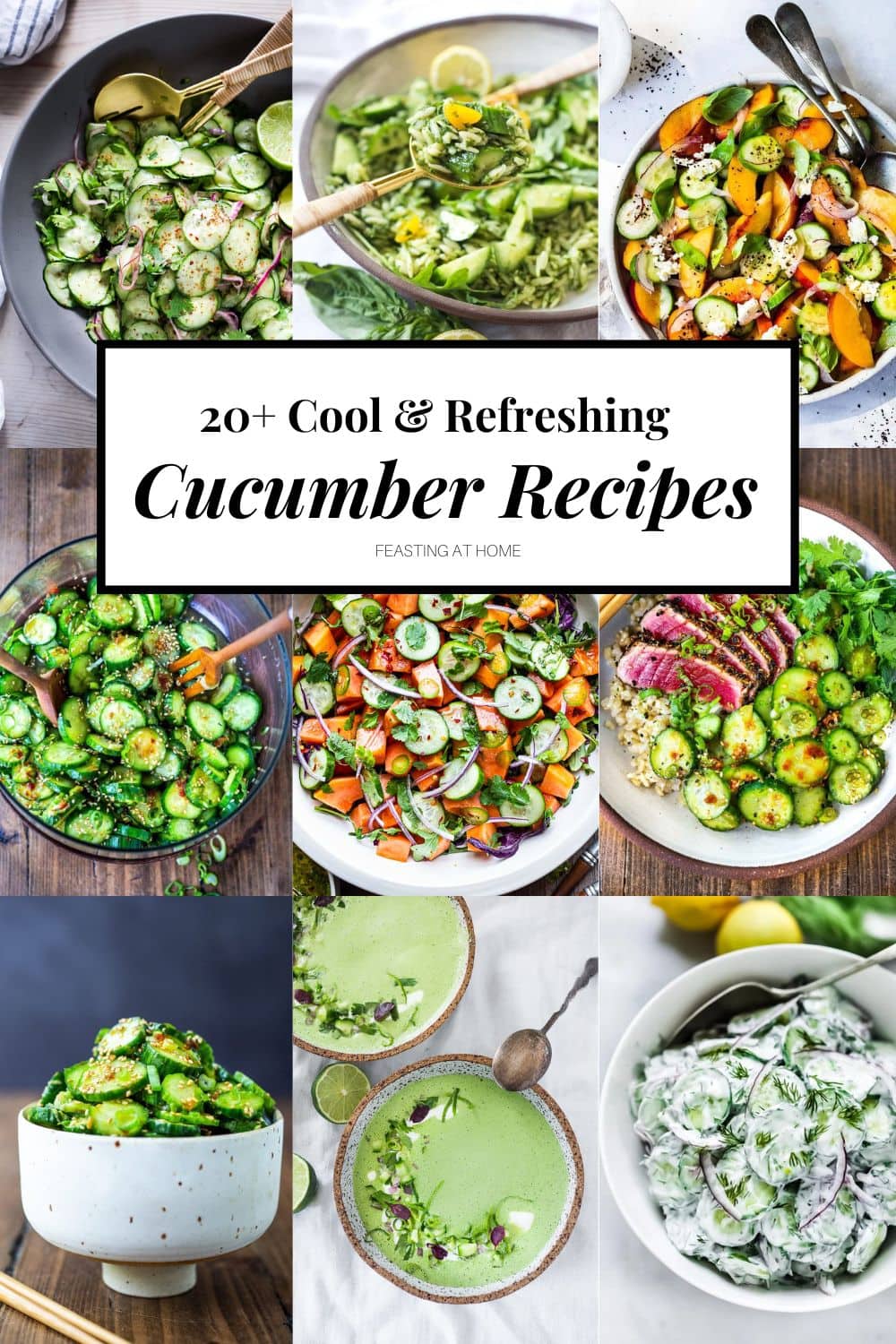 ---
Refreshing Cucumber Salads!
Cucumber Salads are at the top of the list this summer! Light and refreshing, they cool and hydrate the body during the hot months!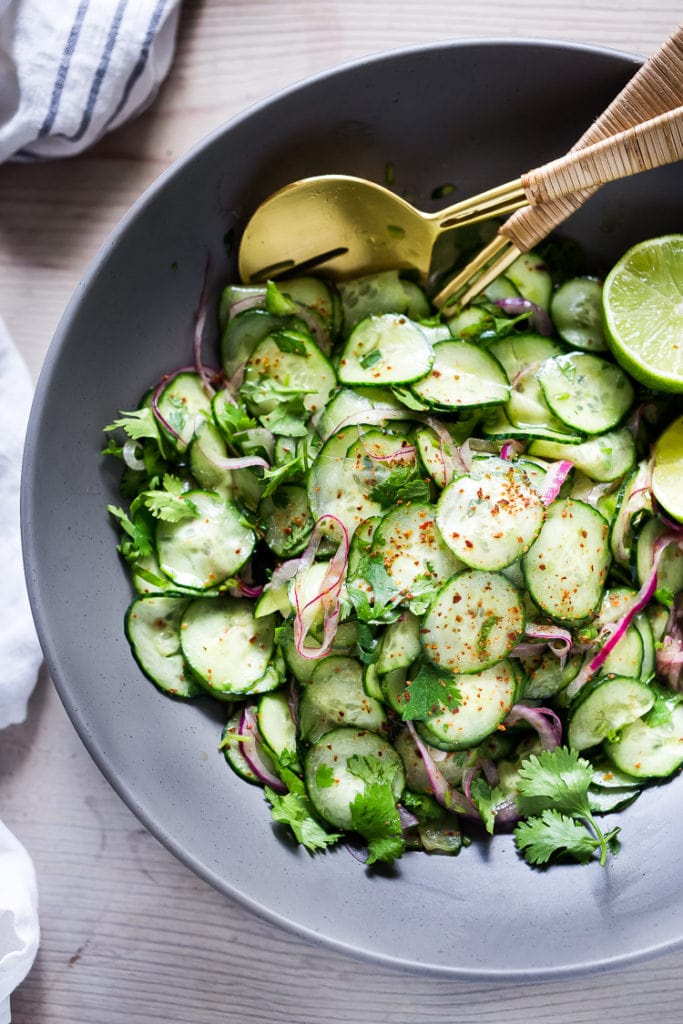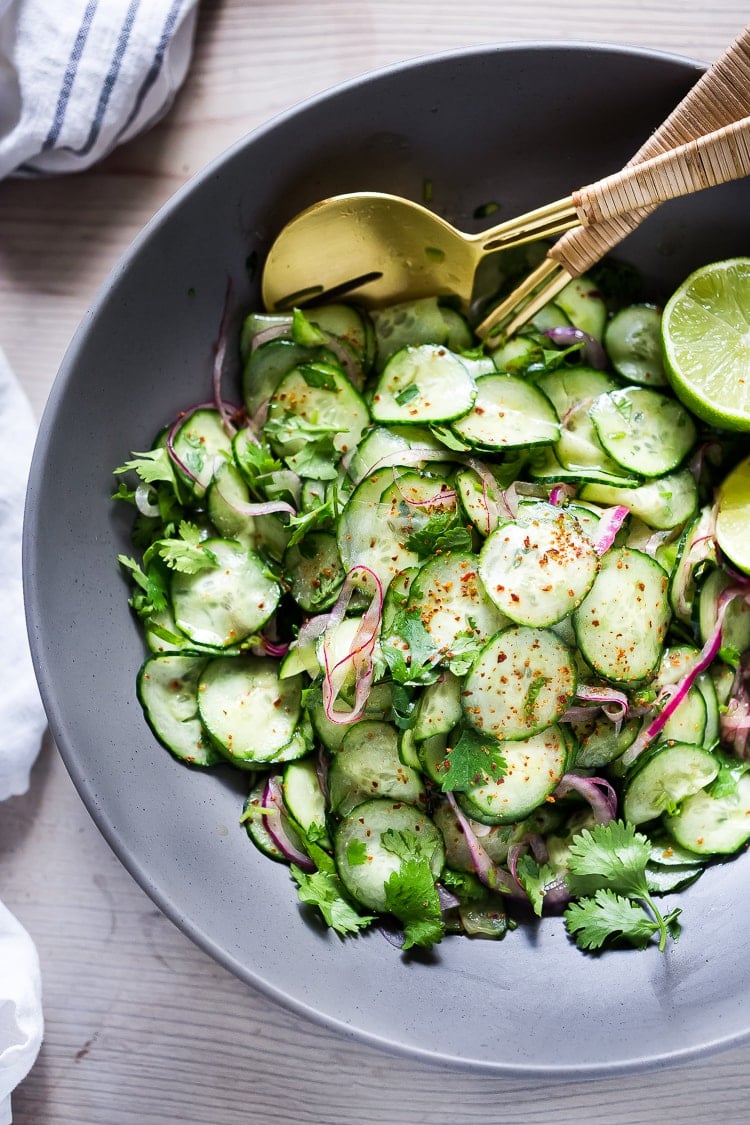 Cucumber Salad with Lime
This simple, easy Mexican-inspired Cucumber Salad with Lime pairs with so many things!  Cool and refreshing,  serve it alongside grilled fish or meat, or tuck it to into tacos, buddha bowls or simply spoon it over a bowl of nutty quinoa during the busy workweek.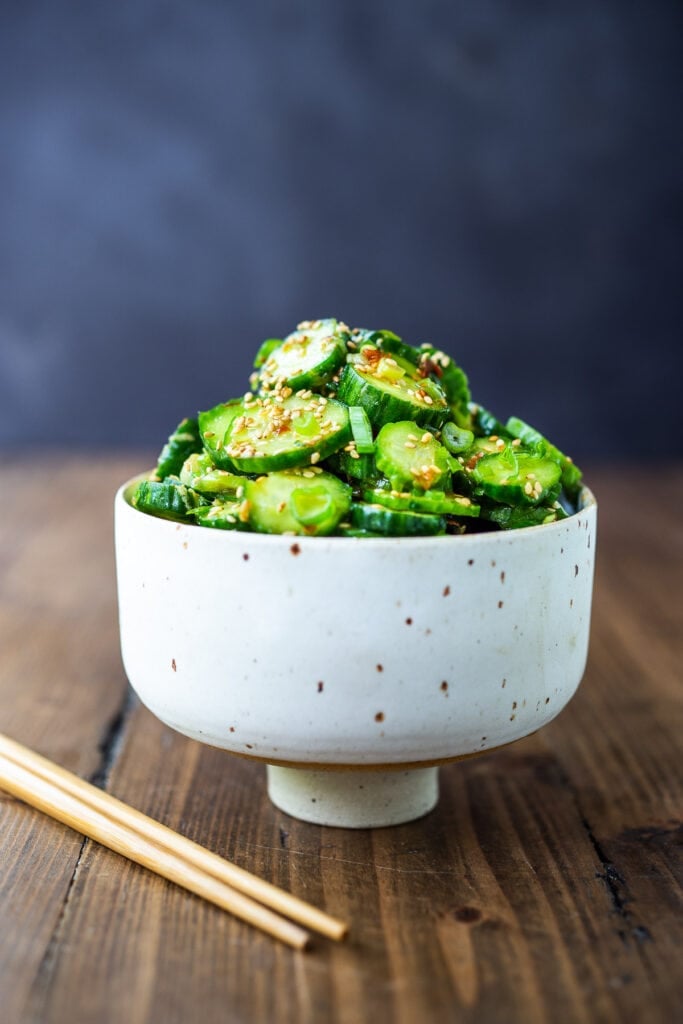 Asian Cucumber Salad
This Asian Cucumber Salad is cool and refreshing and pairs well with many things. It's vegan and gluten-free and is a nice addition to meals and bowls you are already making!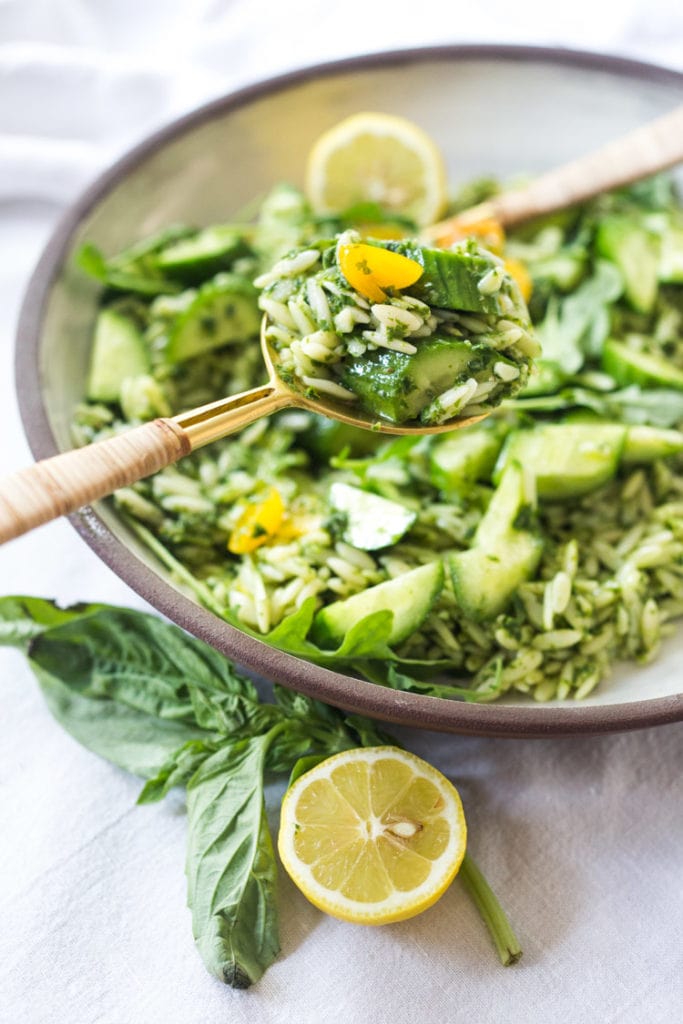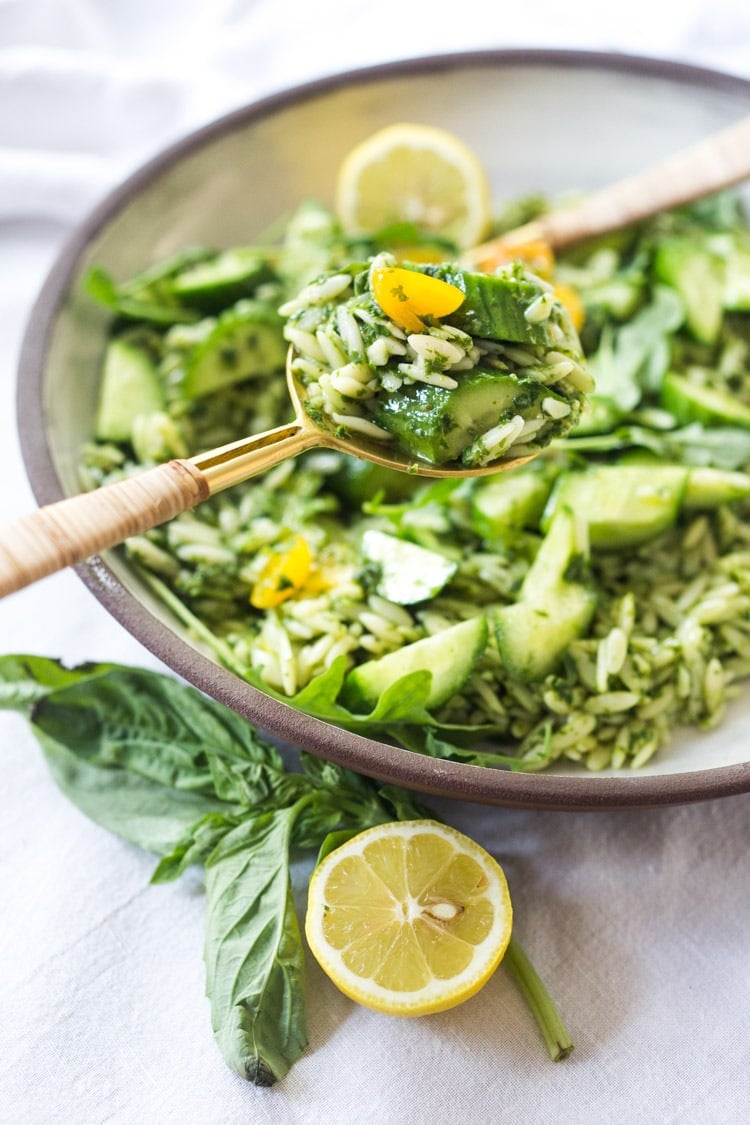 Cucumber Orzo Salad with Lemon & Basil
Lemon Basil Orzo Salad is located with cucumbers, tomatoes and arugula. A healthy, vegan, pasta salad that can be made ahead for midweek lunches or potlucks. Keep it vegan or add feta! 
Nectarine Salad with Cucumber, Basil and Goat Cheese
A juicy Nectarine Salad with cucumber, basil, goat cheese, red onion and optional Urfa Biber (Turkish Chili Pepper). A simple delicious Farmers Market Salad you can put together in minutes!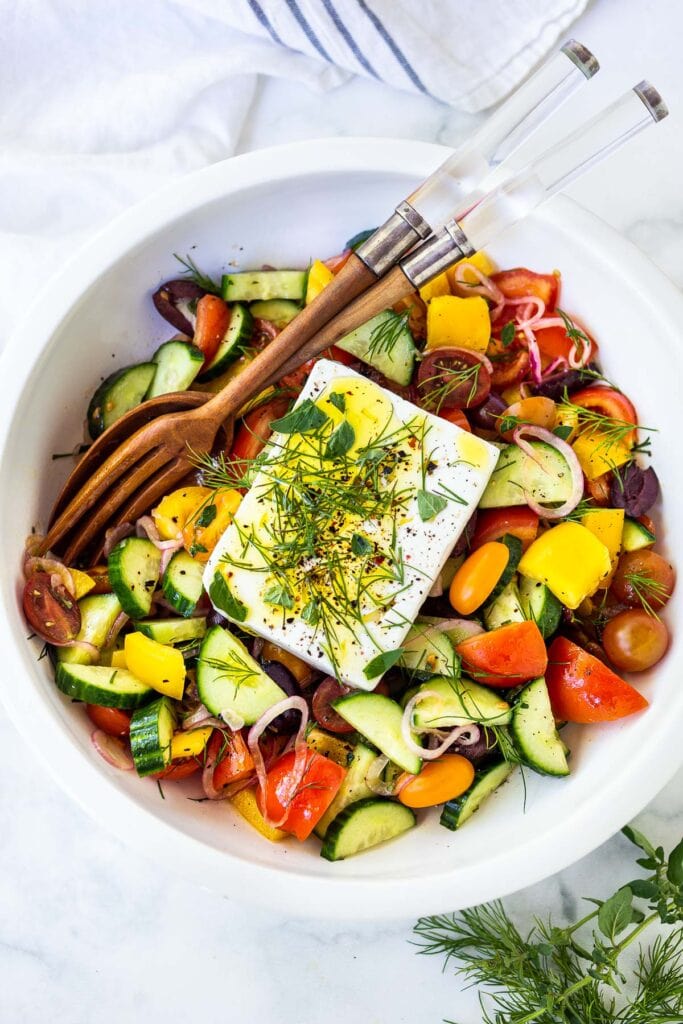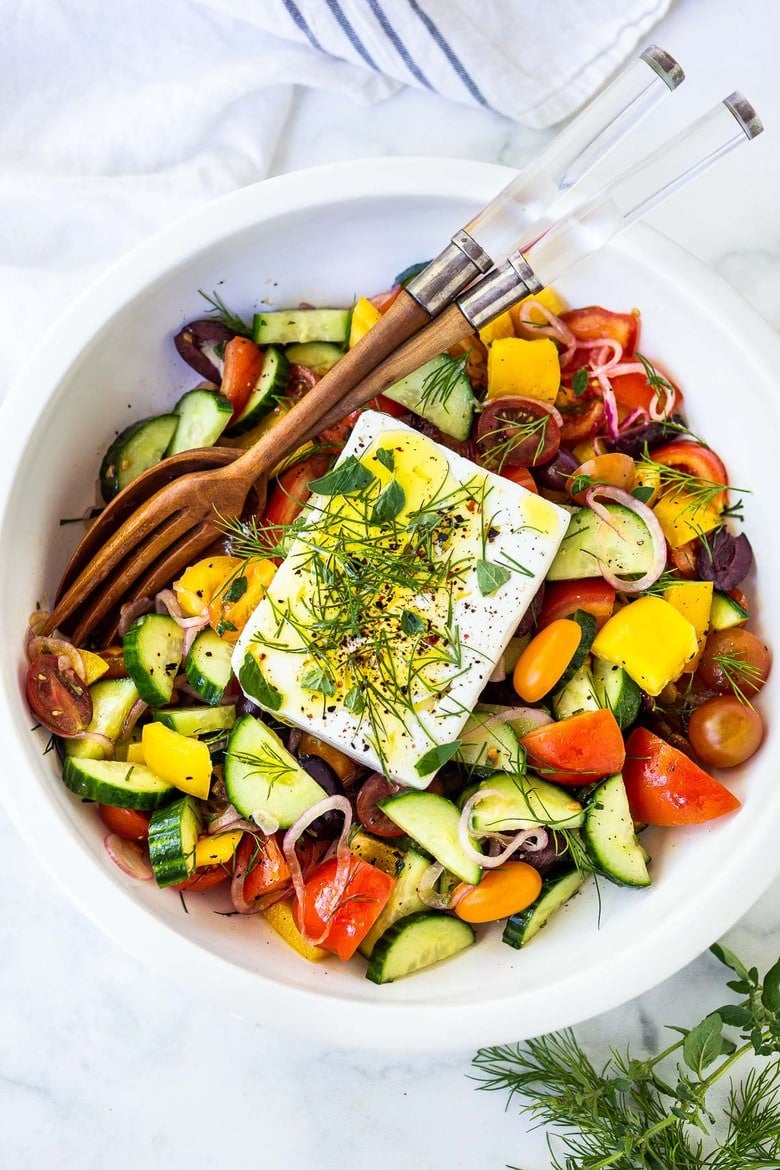 Classic Greek Salad
This Classic Greek Salad is bursting with summertime flavor! Made with vine-ripened tomatoes, cucumbers, bell pepper, kalamata olives and sheep's milk feta, this salad highlights the best of summer produce and lets the vegetables shine!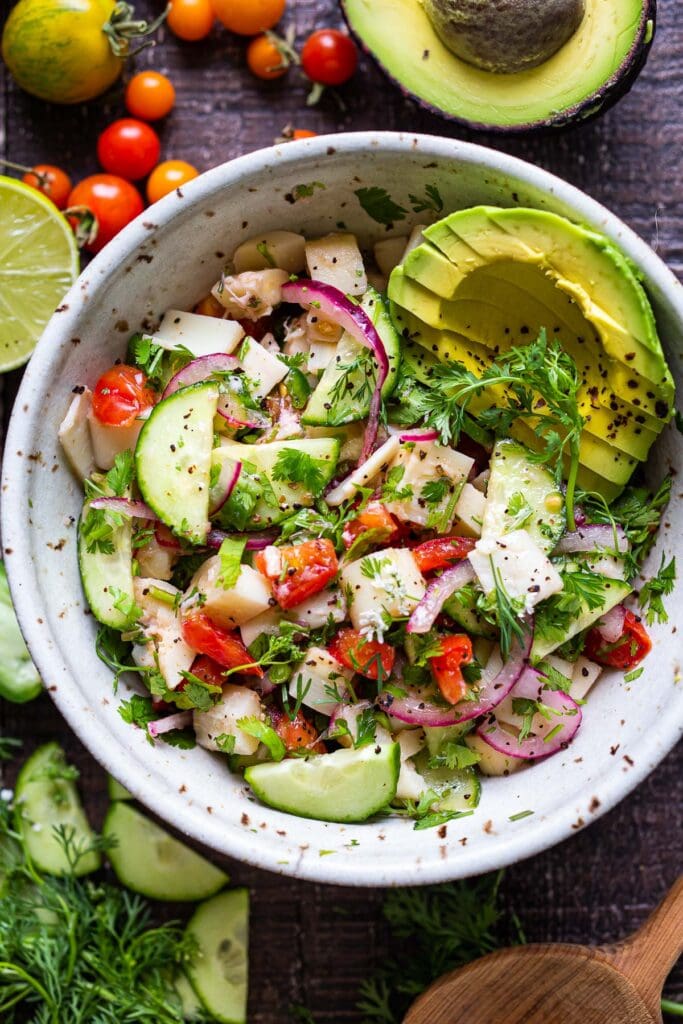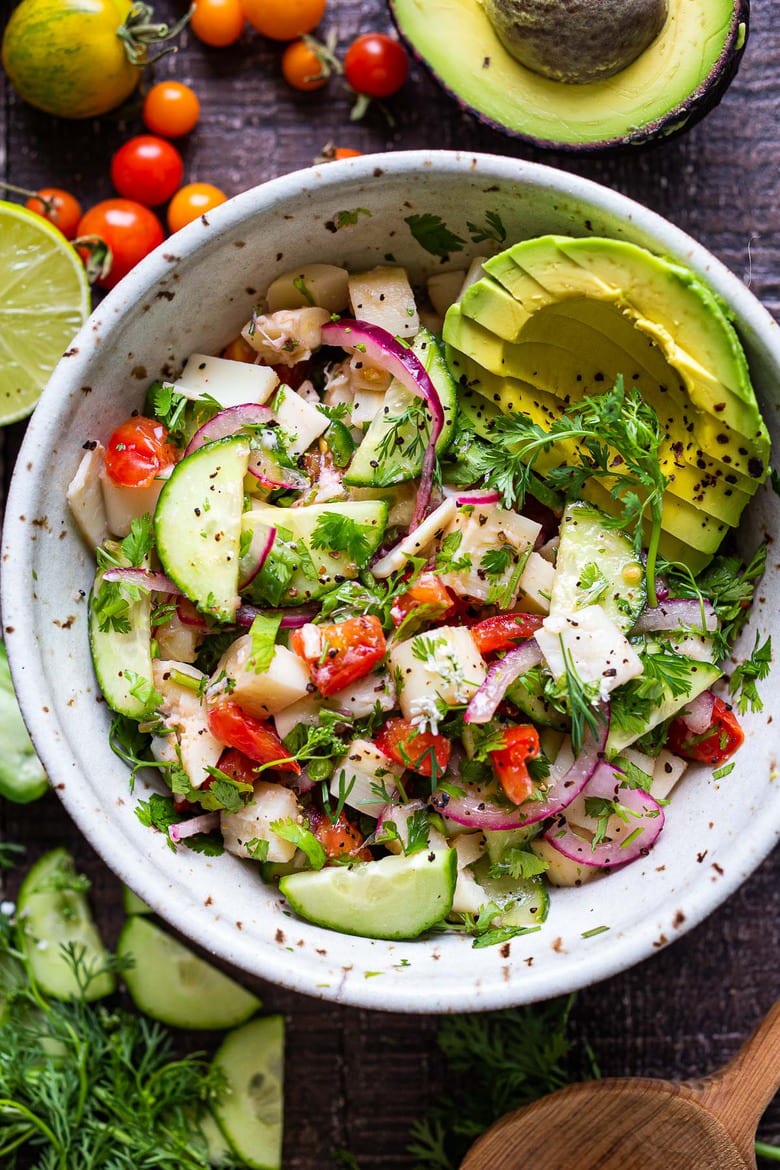 Hearts of Palm Ceviche
This plant-based, Vegan Ceviche is made with hearts of palm (instead of fish) and traditional Mexican ceviche ingredients- cucumber tomato, cilantro, jalapeno, lime juice and avocado. It is a very easy recipe that can be whipped up in minutes!  Serve it on mini tostadas, with chips or in lettuce cups!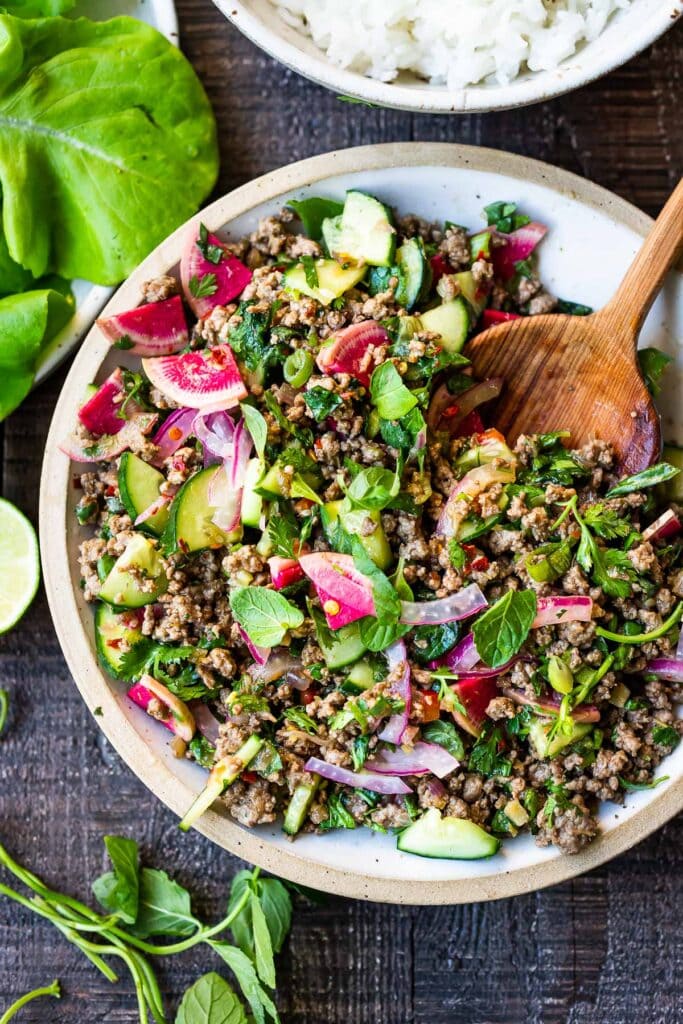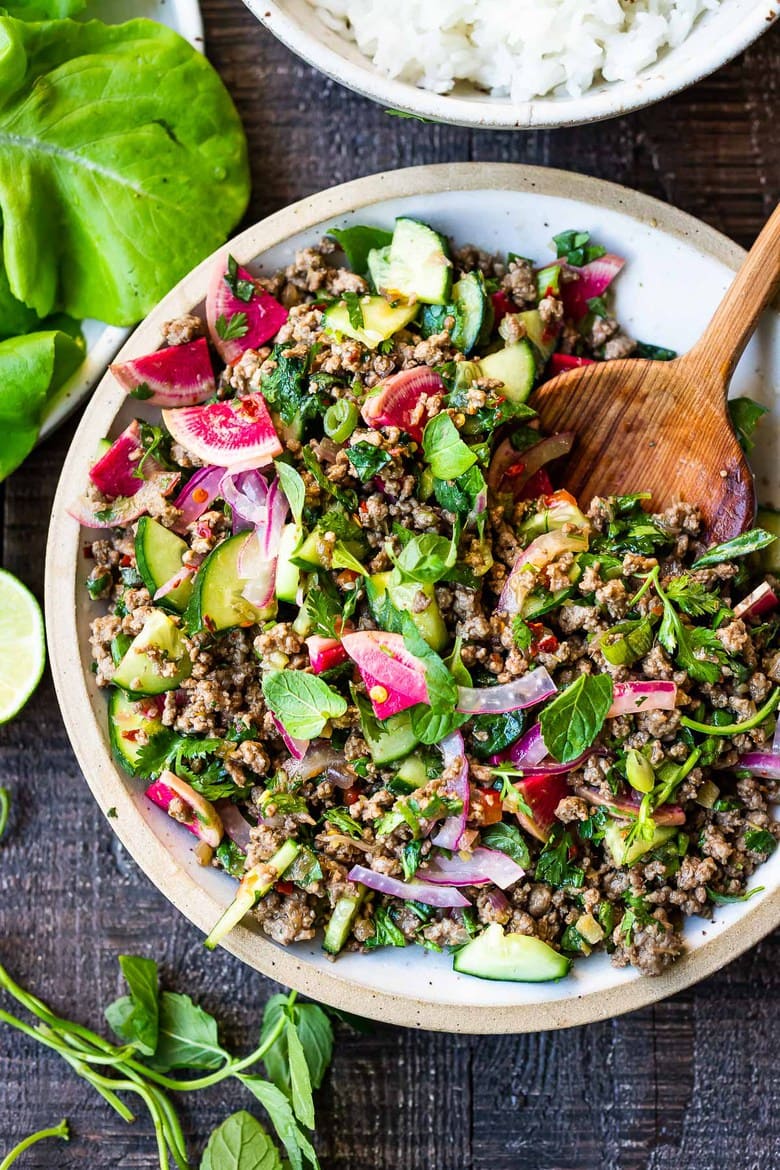 Thai Larb Salad
A 30-Minute recipe for Thai Larb Salad, a fresh flavorful Thai salad loaded up with crunchy cucumber, fresh herbs and radishes and tossed in a tangy lime dressing! This can be made in 30 minutes flat! Serve it with lettuce wraps, rice or both!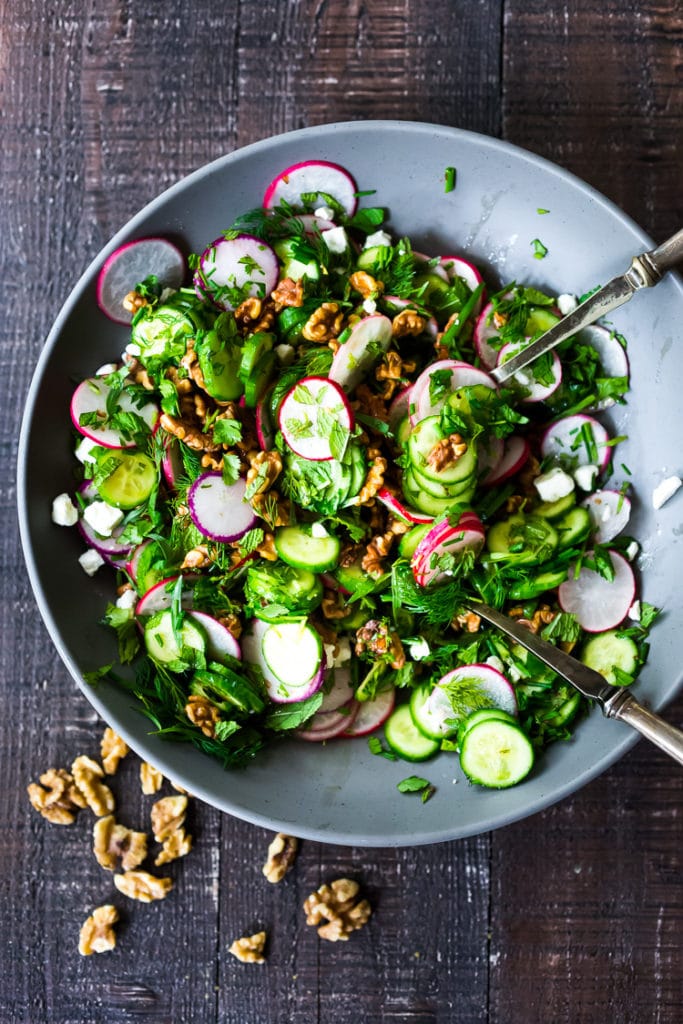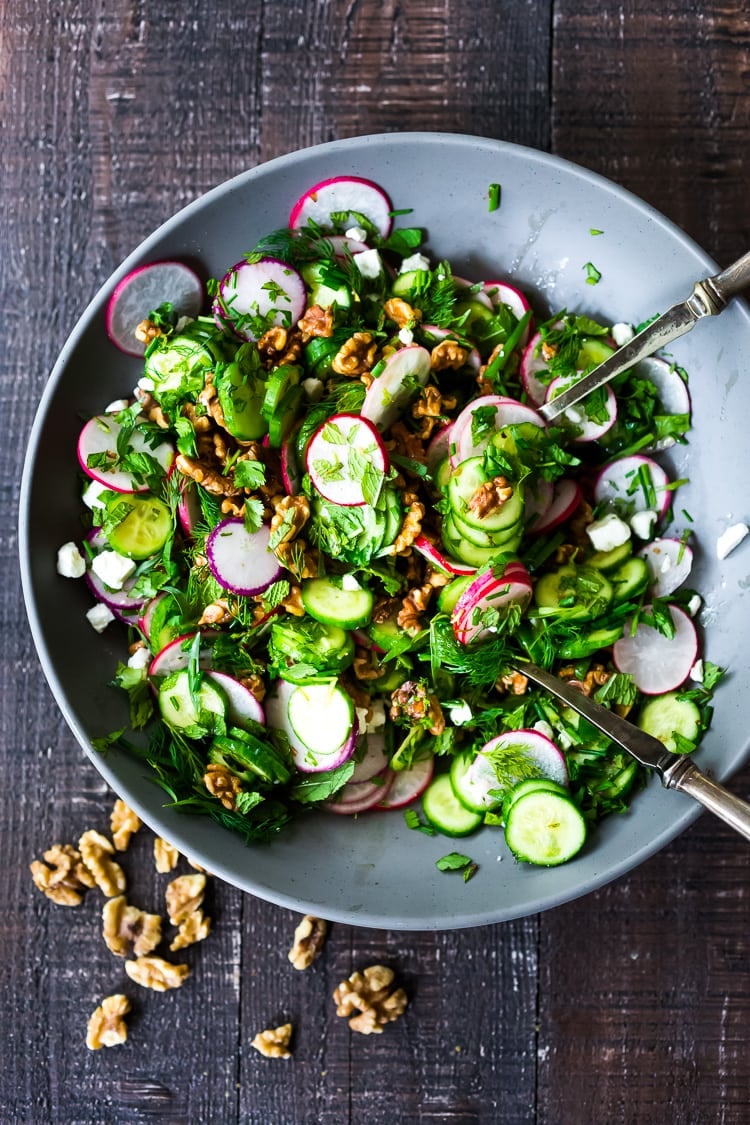 Persian Cucumber Walnut Salad
Persian Cucumber Walnut Salad and mounds of fresh herbs like mint, dill, cilantro, chives and parsley. Refreshing!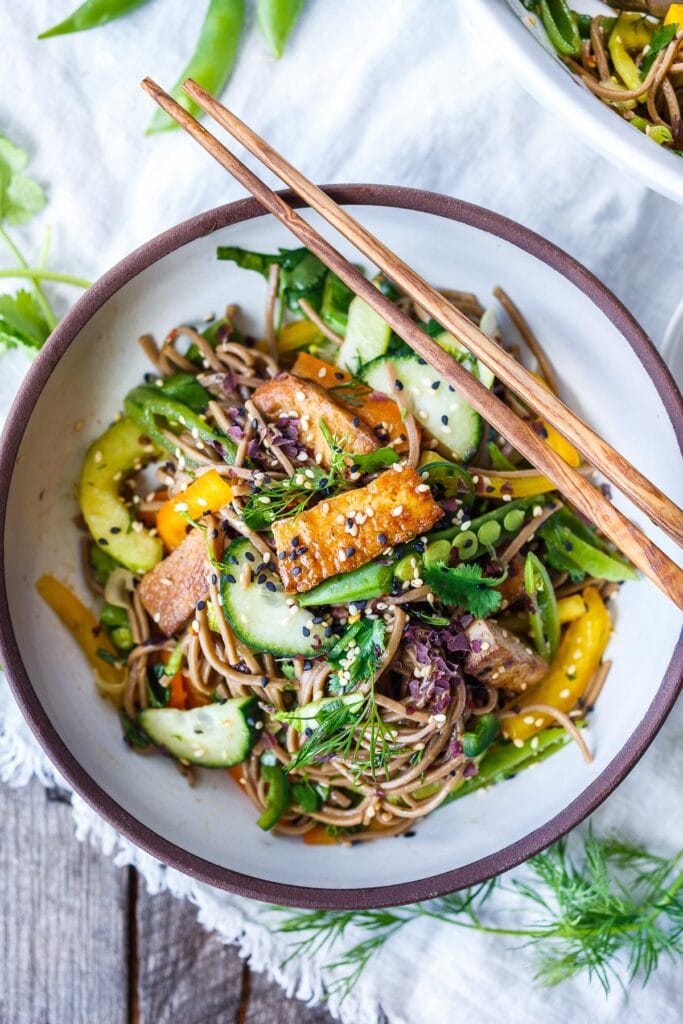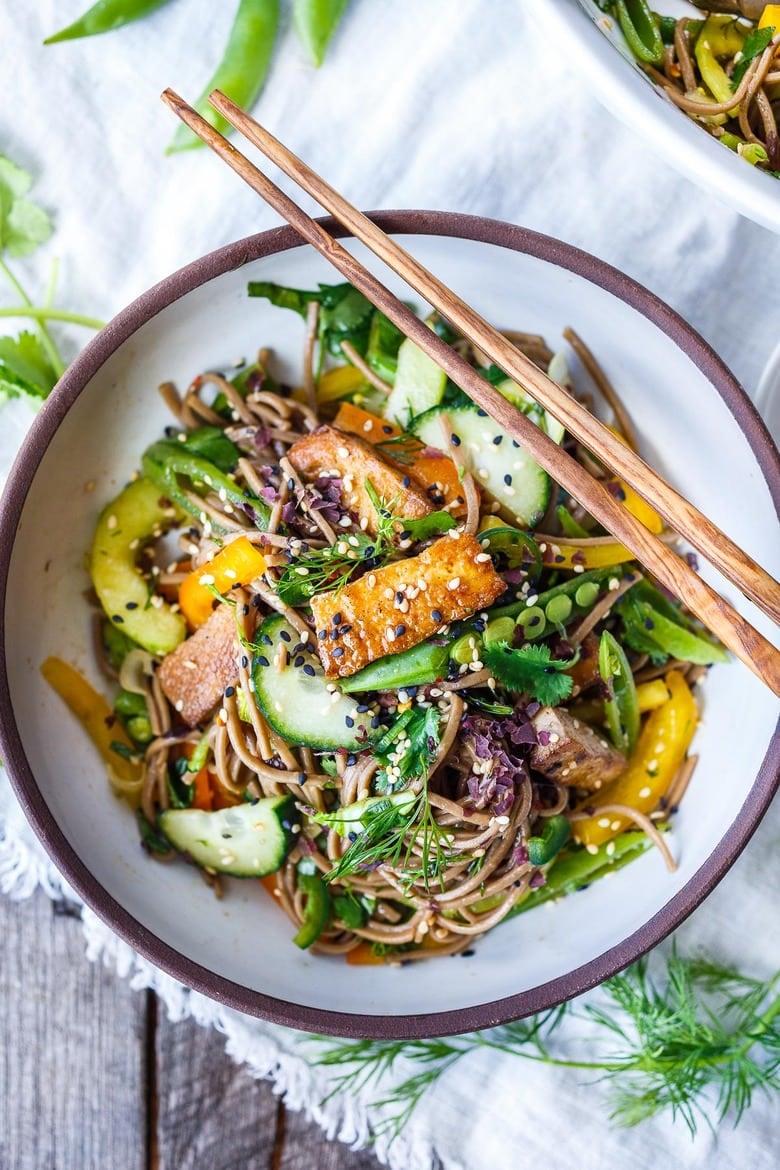 Soba Noodle Salad
Thi Soba Noodle Salad is loaded with cucumbers, herbs and other seasonal veggies! For a protein boost, top with savory tofu, smoked salmon, or grilled chicken.  Quick, easy and full of earthy-crunchy goodness.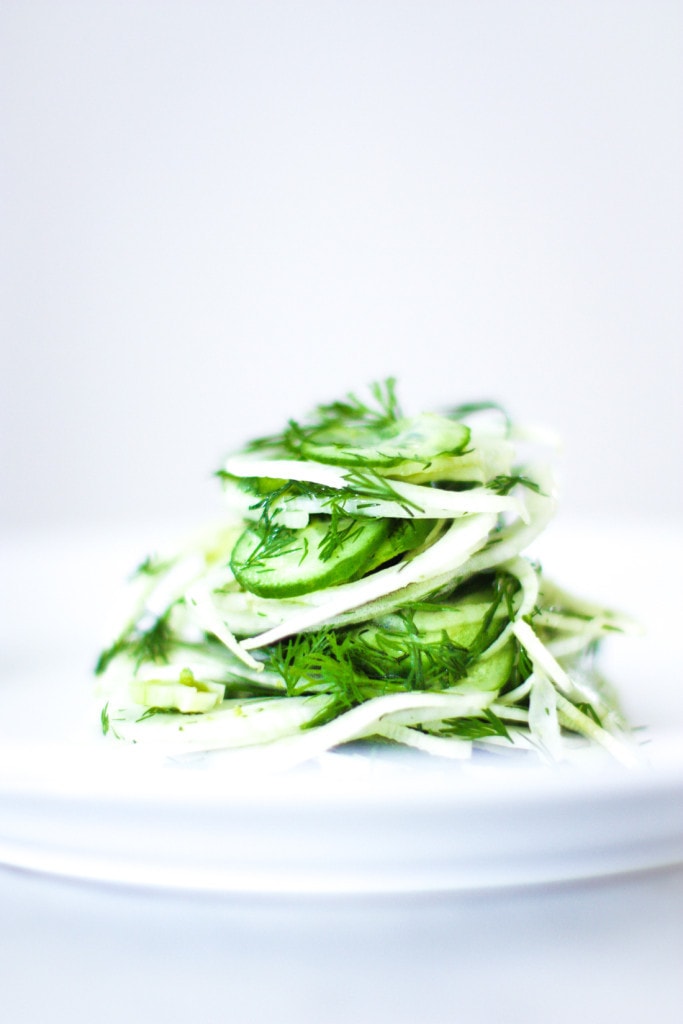 Fennel Cucumber Salad
Simple, delicious Fennel Cucumber Salad with Dill- refreshing and light, this vegan salad can be made ahead, and pairs well with so many things!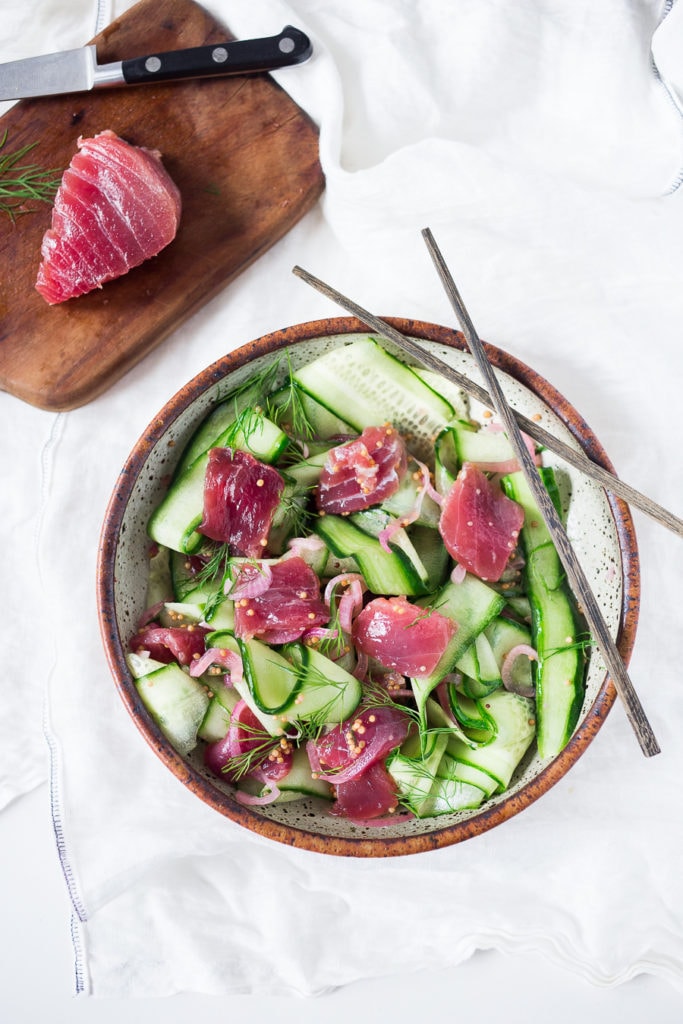 Ahi Salad with Cucumber Ribbons, Pickled Onions and Dill
Refreshing Ahi Salad with cucumber ribbons, pickled onions, dill and mustard seed dressing- a simple healthy tuna recipe that is low-carb, gluten-free, and paleo.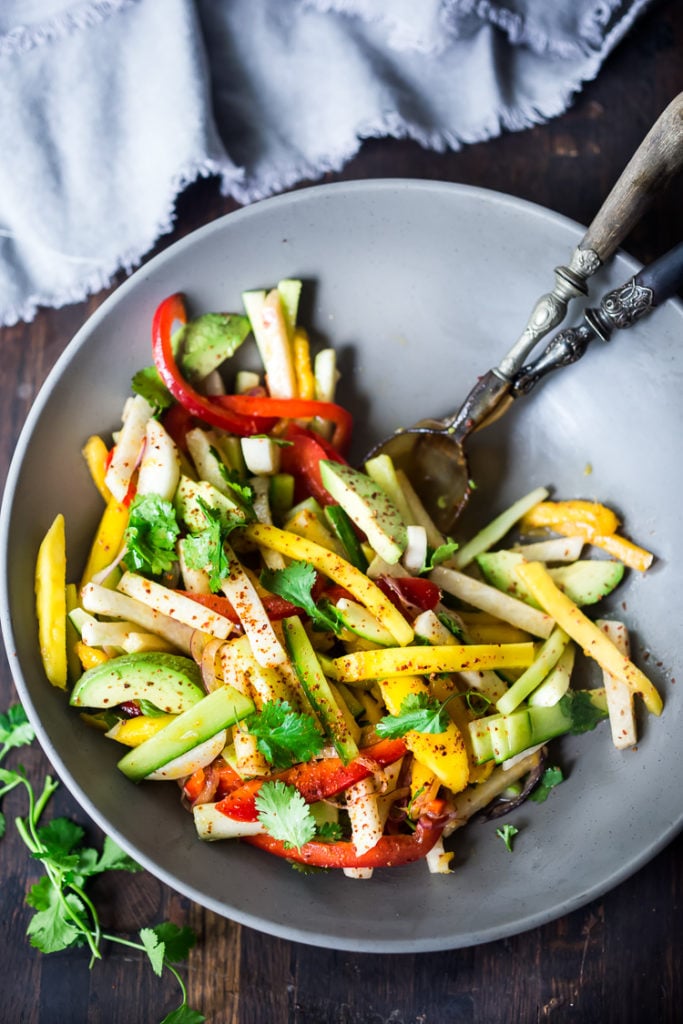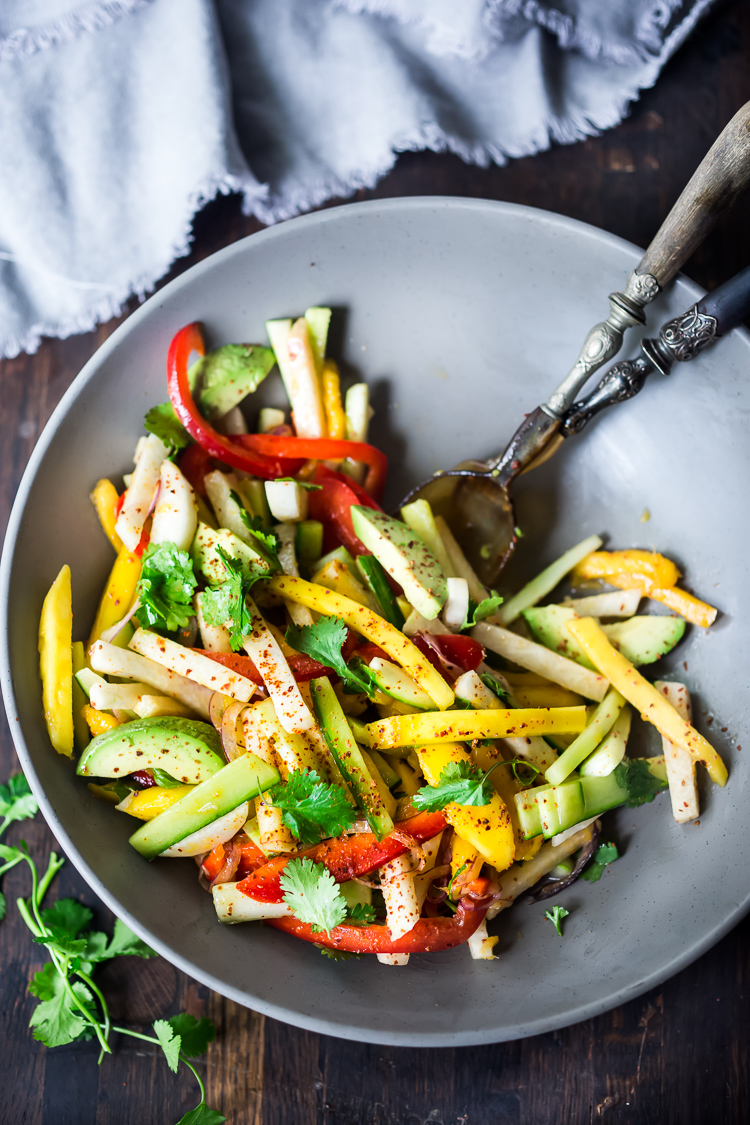 Jicama Salad with Cucumber, Mango, Avocado, Lime and Aleppo
Jicama Salad with Mango, Cucumber, Avocado, Lime and Aleppo Chile Flakes – a delicious healthy side dish that pairs well with grilled chicken and fish. Perfect for alfresco dining, outdoor gatherings, barbecues and potlucks!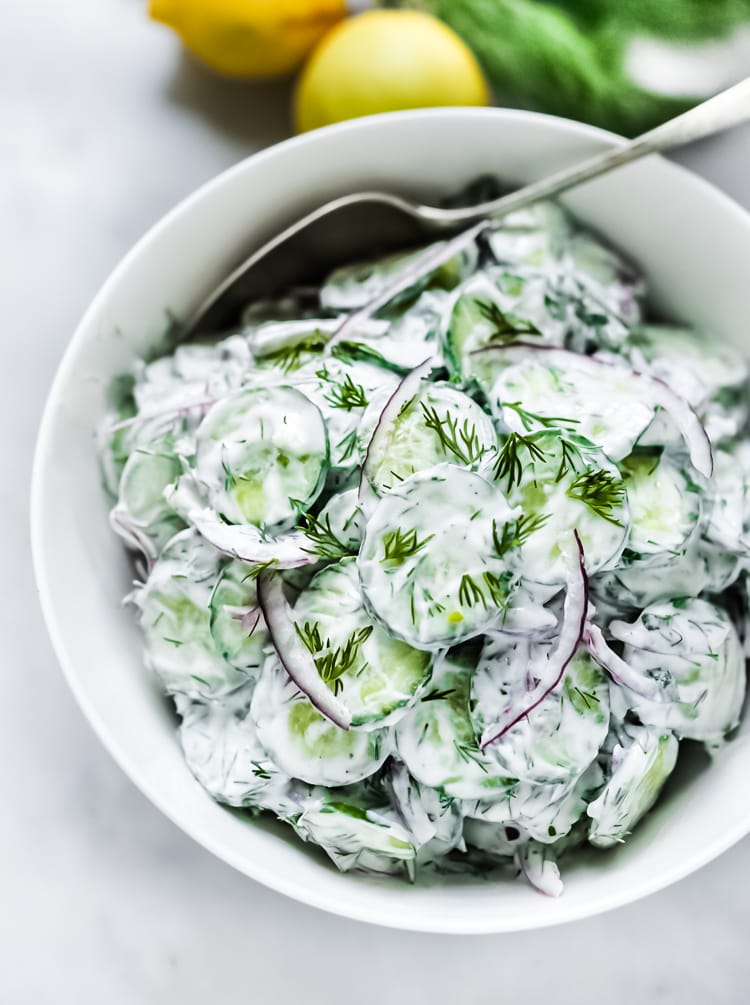 Creamy Cucumber Salad
Turkish-inspired Creamy Cucumber Salad with dill and mint in a lemony creamy yogurt dressing. Cool and refreshing this herby lemony summer salad pairs well with grilled meats or fish, or falafels!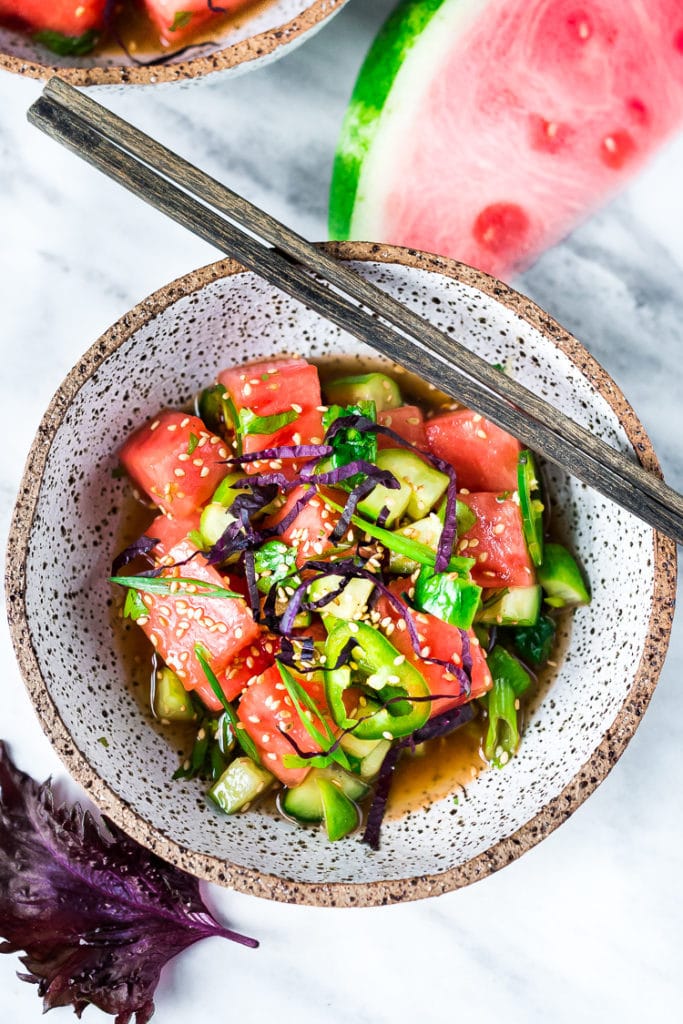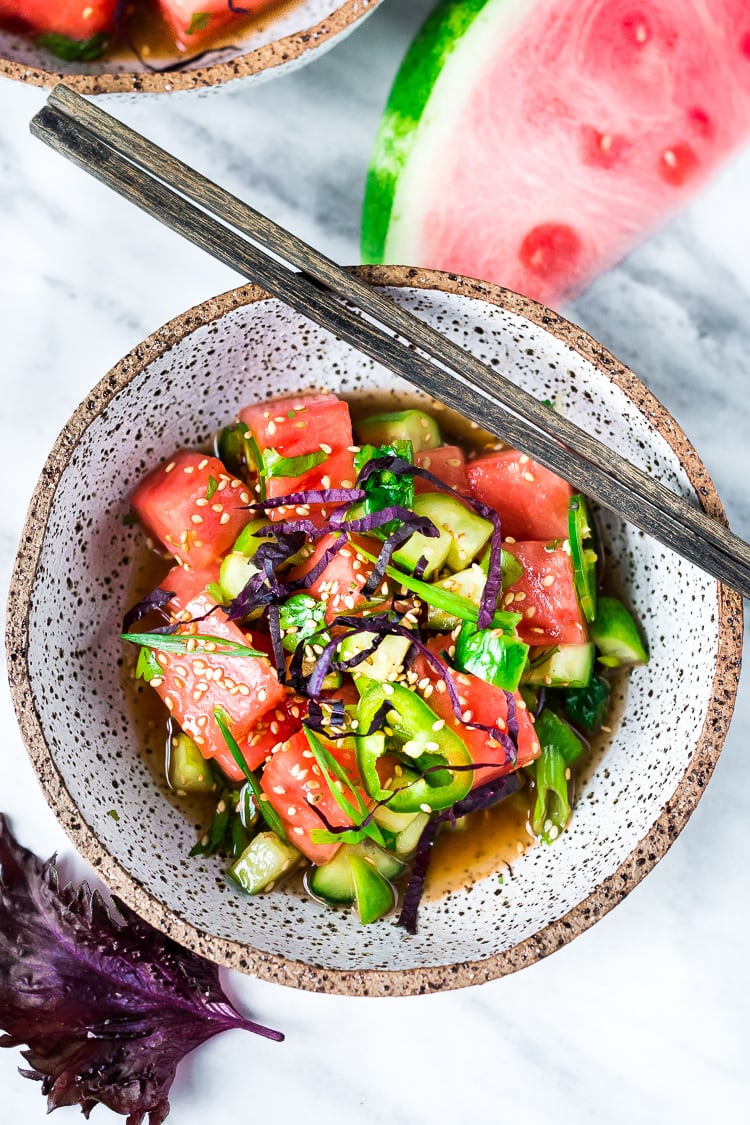 Watermelon Salad with Cucumber, Scallions and Shiso
A simple delicious recipe for Watermelon Shiso Salad with Cucumber, Sesame Seeds and Scallions – a light and refreshing Asian style Watermelon Salad that is vegan, gluten-free and full of flavor!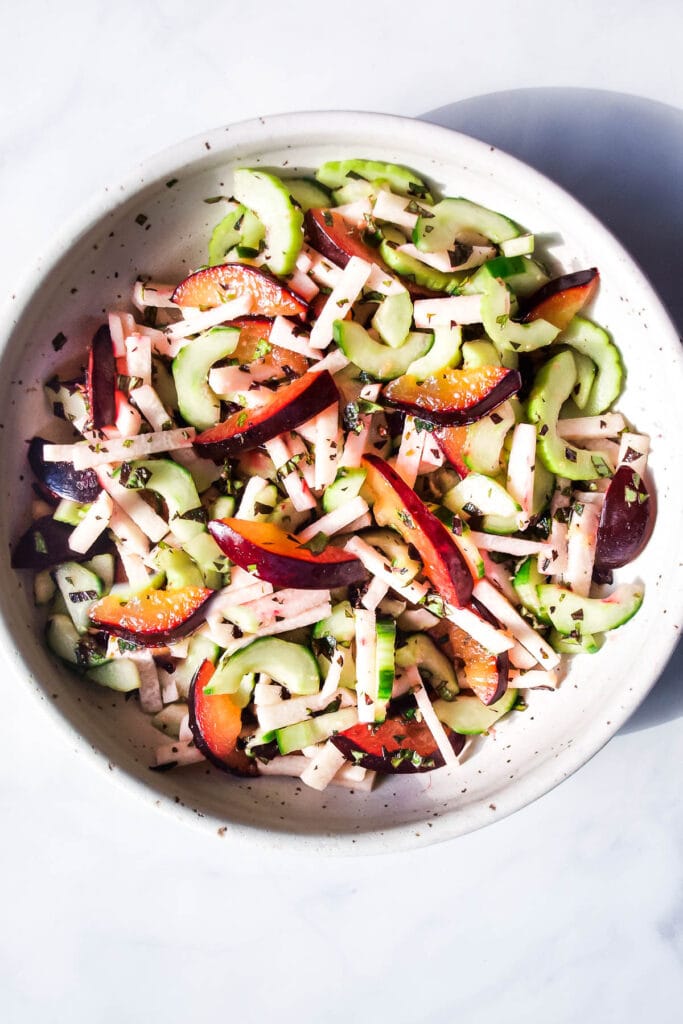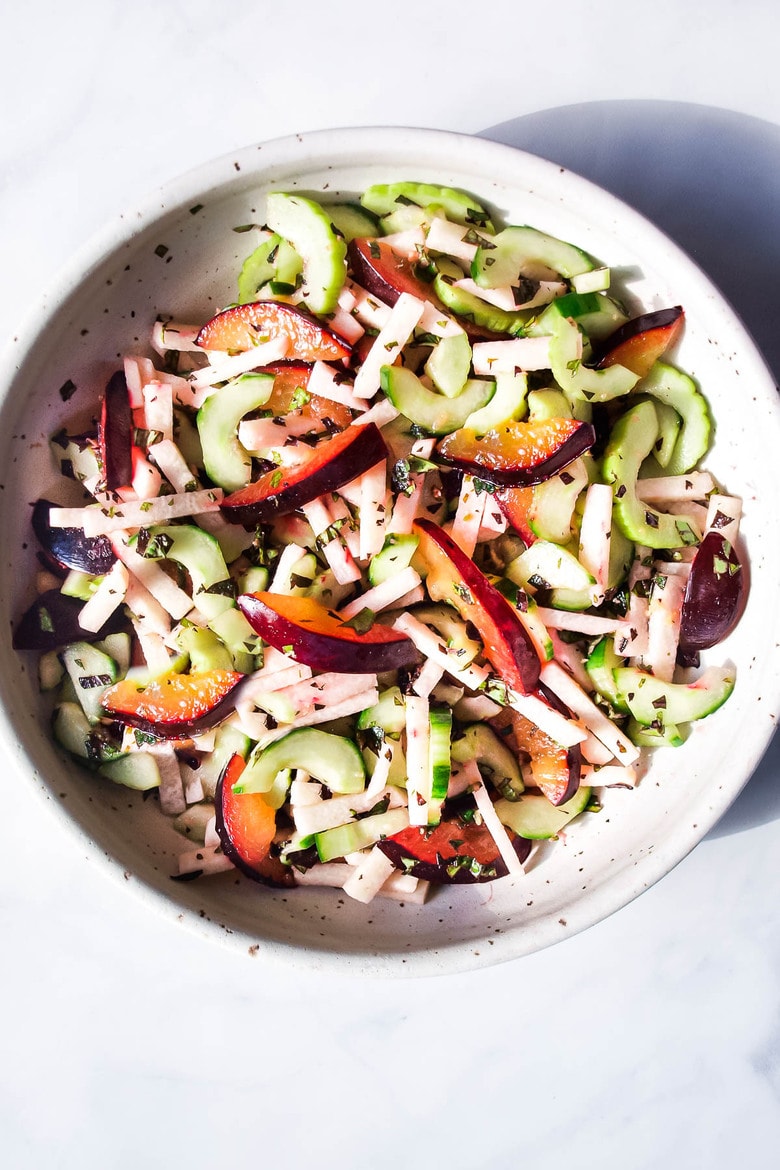 Plum, Jicama & Cucumber Salad
A Plum Salad with Jicama and Cucumber, dressed with a flavorful Plum Shiso Shrub. Crunchy, refreshing and light, it's deliciously cooling on and hot summer's day! Vegan and GF.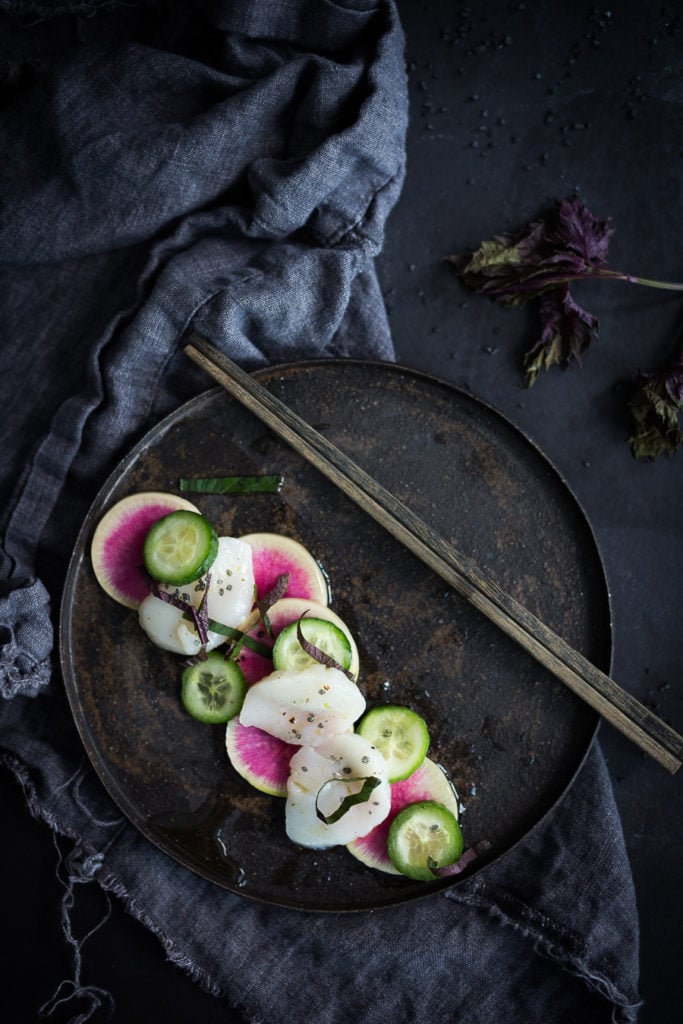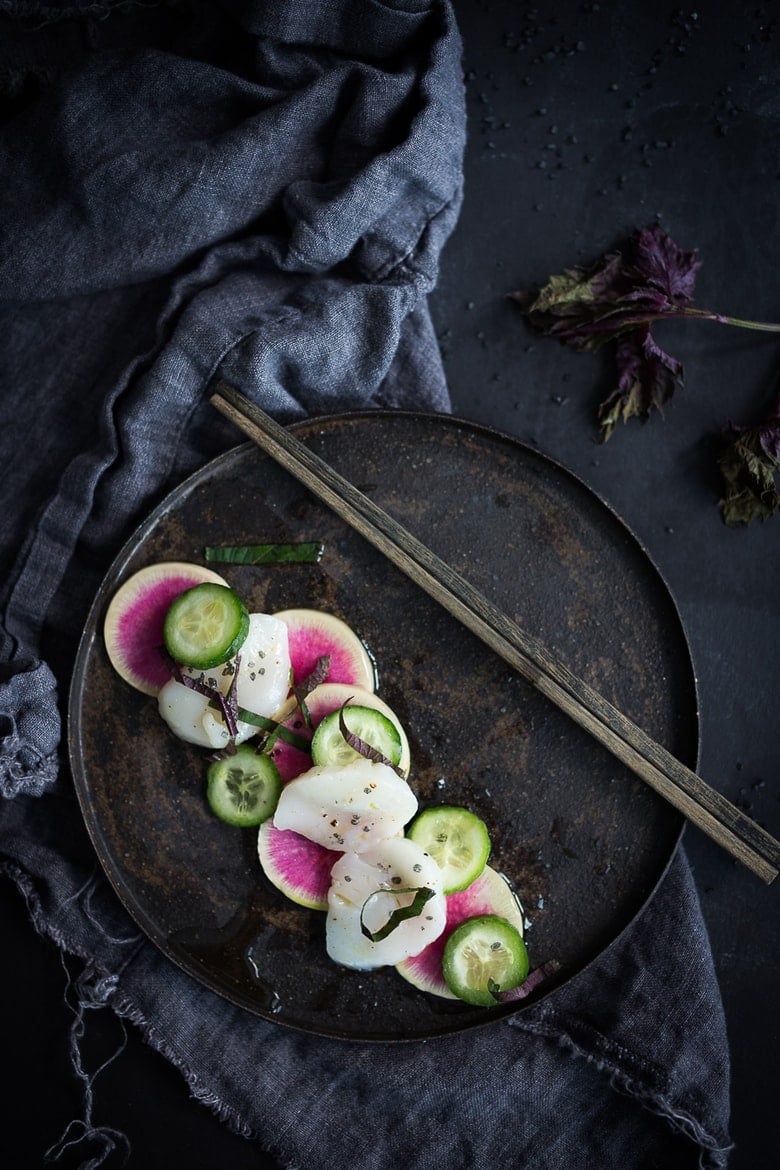 SCALLOP CRUDO WITH CUCUMBER AND RADISH
Scallop Crudo with Cucumber and Shiso… and a step-by-step on how to make Crudo, The Italian Version of Sushi- so simple, delicious, and healthy! The Italians have their own version of sushi, called "Crudo".
---
Chilled Cucumber Soup Recipes
One of our favorite ways to serve up cucumbers is in a chilled soup! Here are a few of our favorites!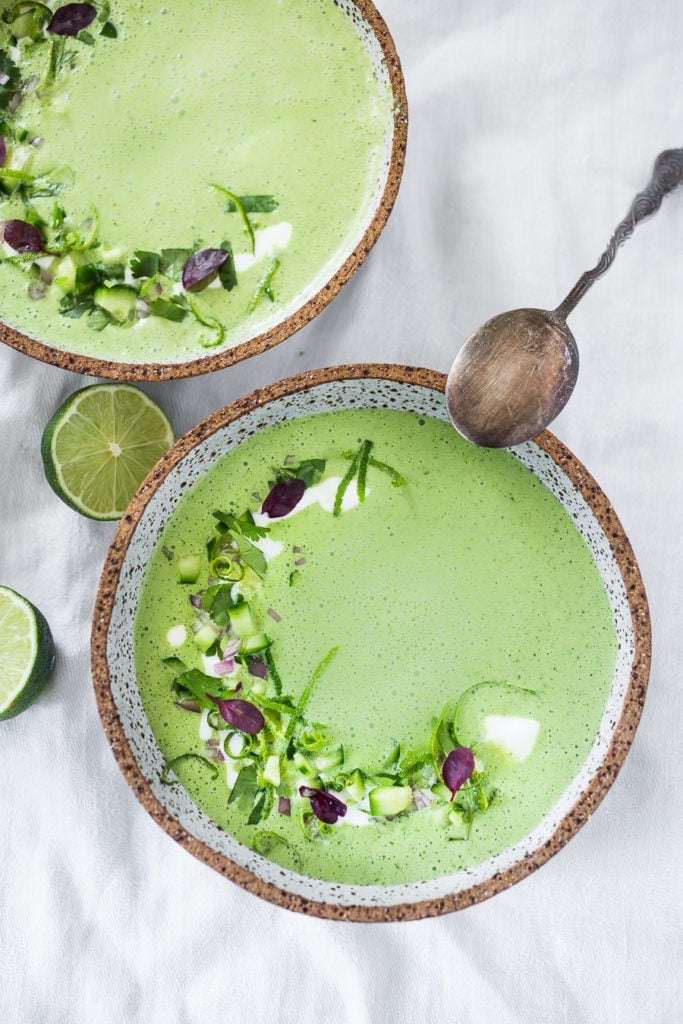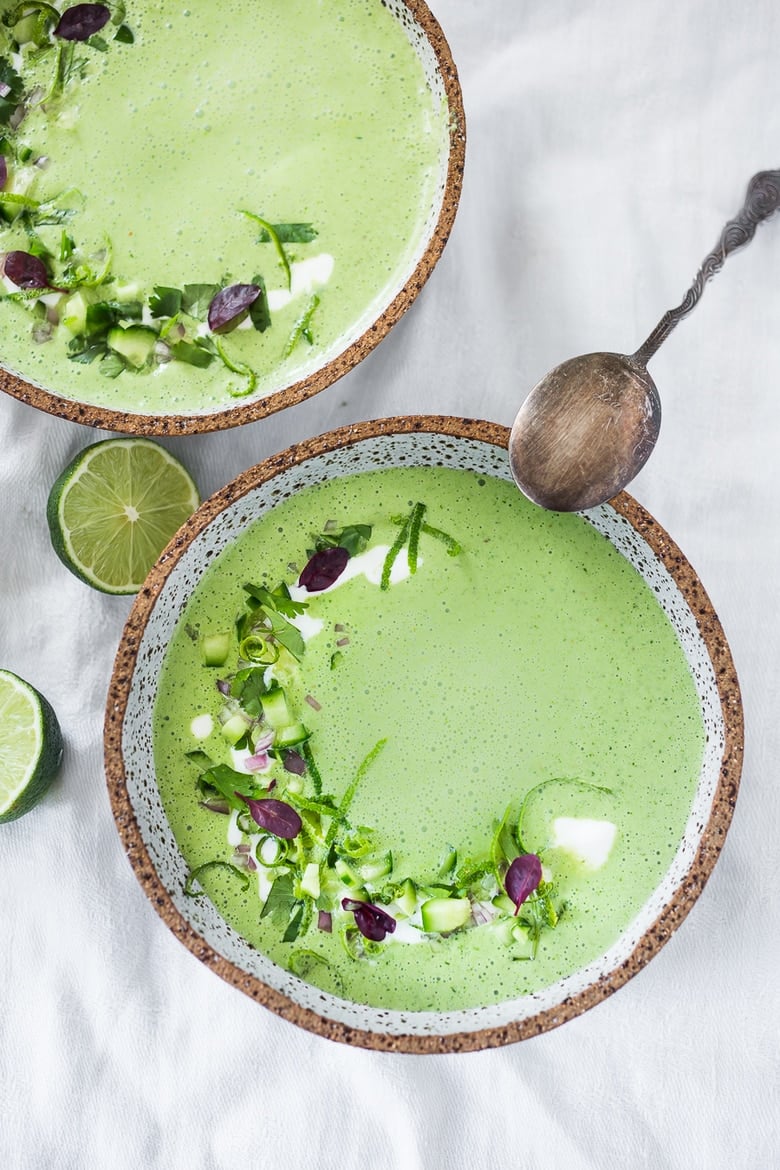 Cooling Cucumber Gazpacho
Cool and refreshing Cucumber Gazpacho with yogurt, cilantro, coriander and lime. Top this with shrimp or keep it vegetarian! So simple and tasty. With a Video!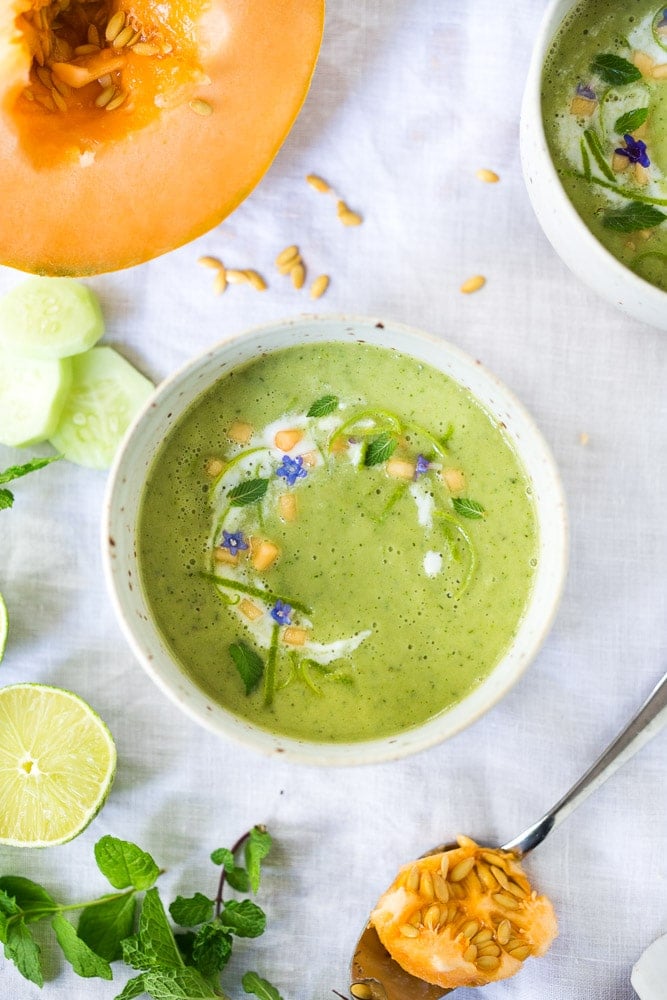 Chilled Cucumber Melon Soup
Chilled Cucumber Melon Soup – an easy, healthy summer soup that can be served as an appetizer or light meal. Refreshing and delicious! 
---
Saucy Cucumber Recipes
Cucumbers are the perfect addition to sauces that tend to cool the palate, perfect served alongside spicy meals, or grilled meats.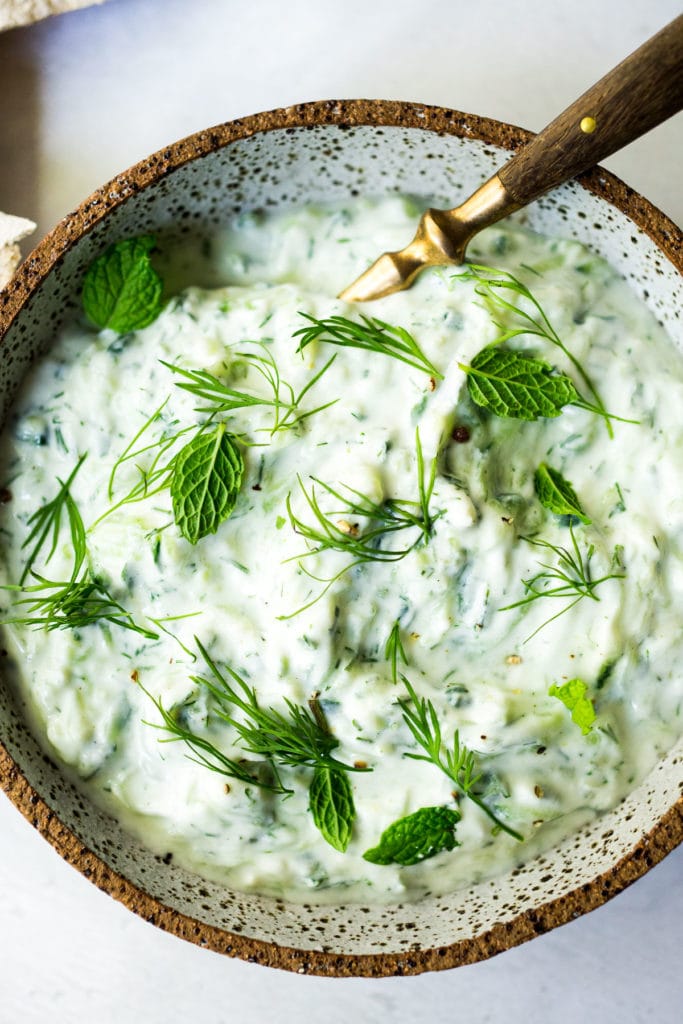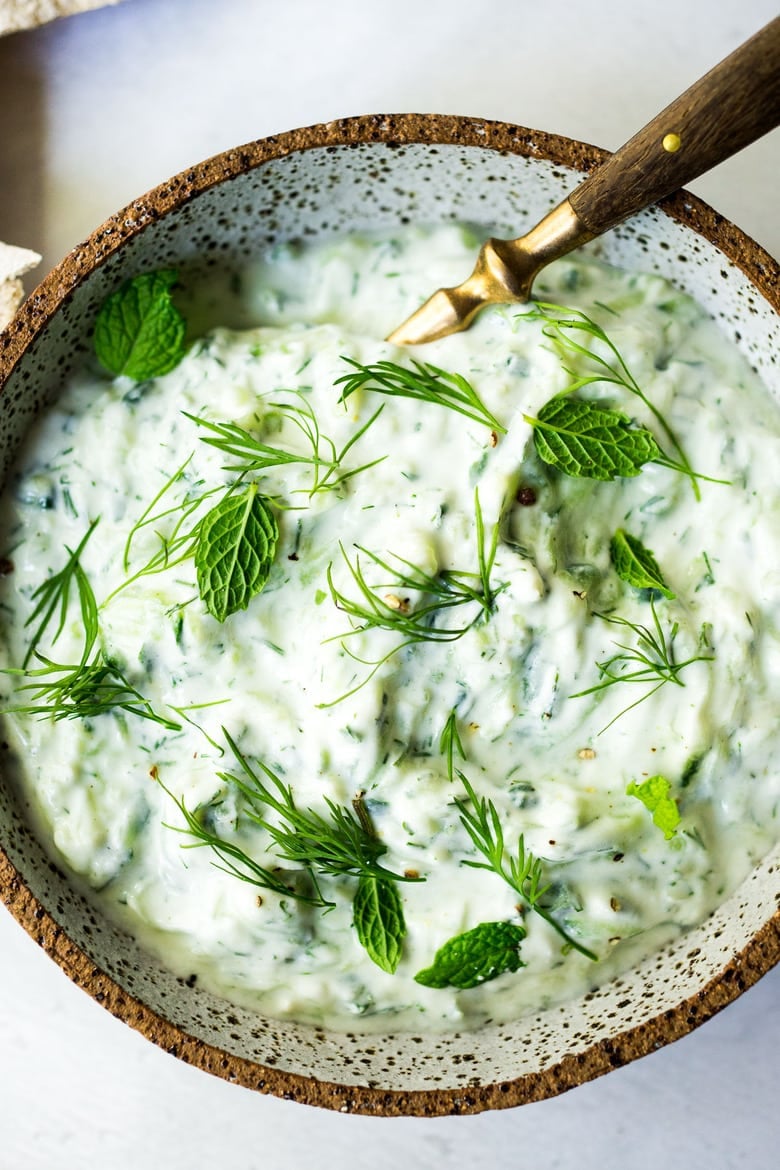 Cucumber Tzatziki!
Cooling Cucumber Tzatziki – a traditional Greek cucumber-yogurt sauce that can be made in just 20 minutes!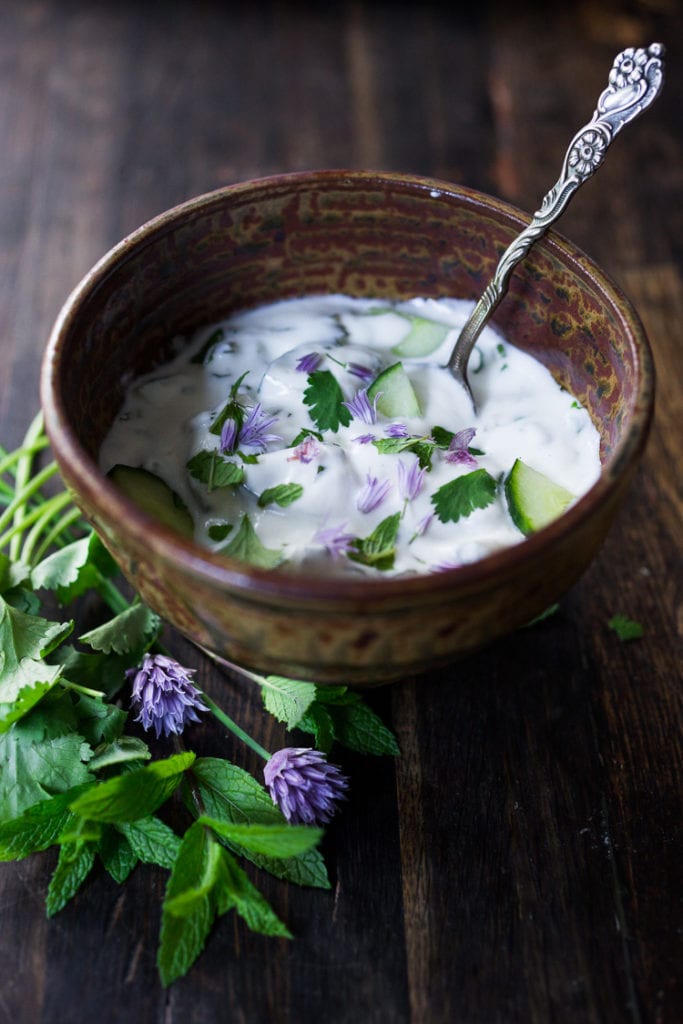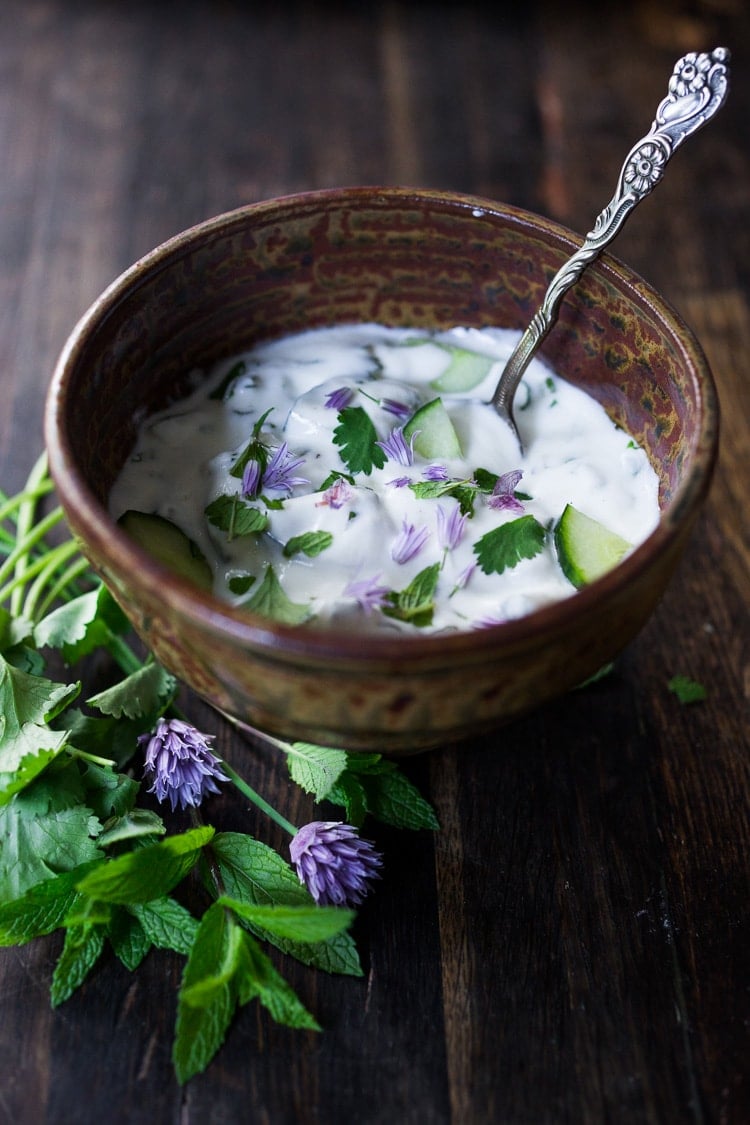 Indian Raita
A simple, authentic Raita Recipe– an Indian yogurt sauce with cucumber, mint and cilantro. Cooling and refreshing, serve this with spicy Indian dishes to help cool the palate.
---
Pickled & Fermented Cucumber Recipes
Have a plethora of cucumbers growing in your garden? These cucumber recipes are perfect for extending their shelf life!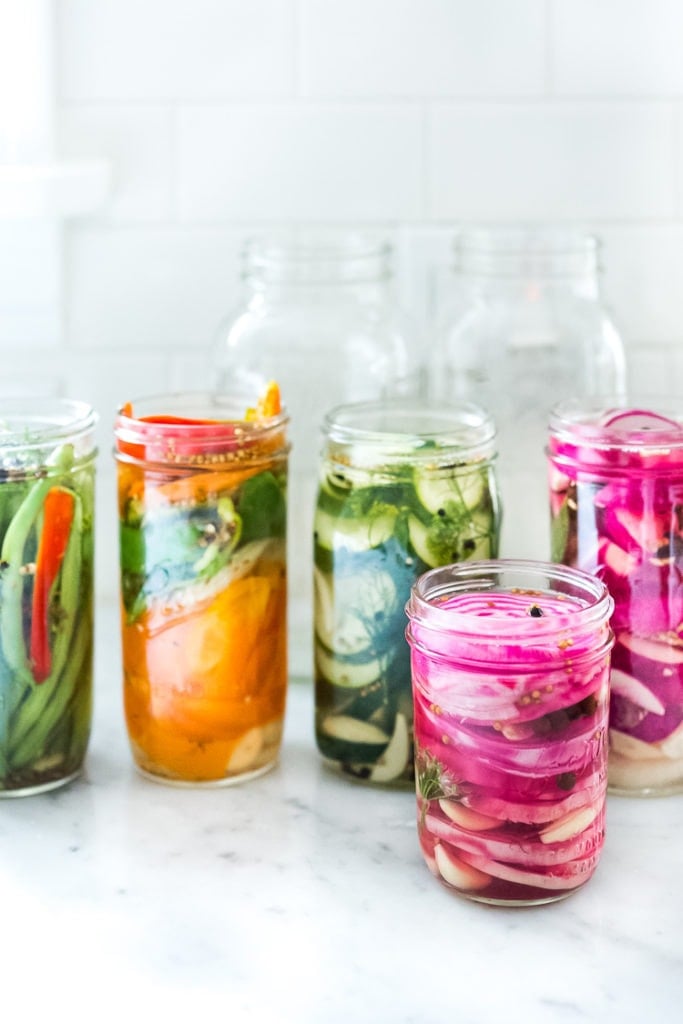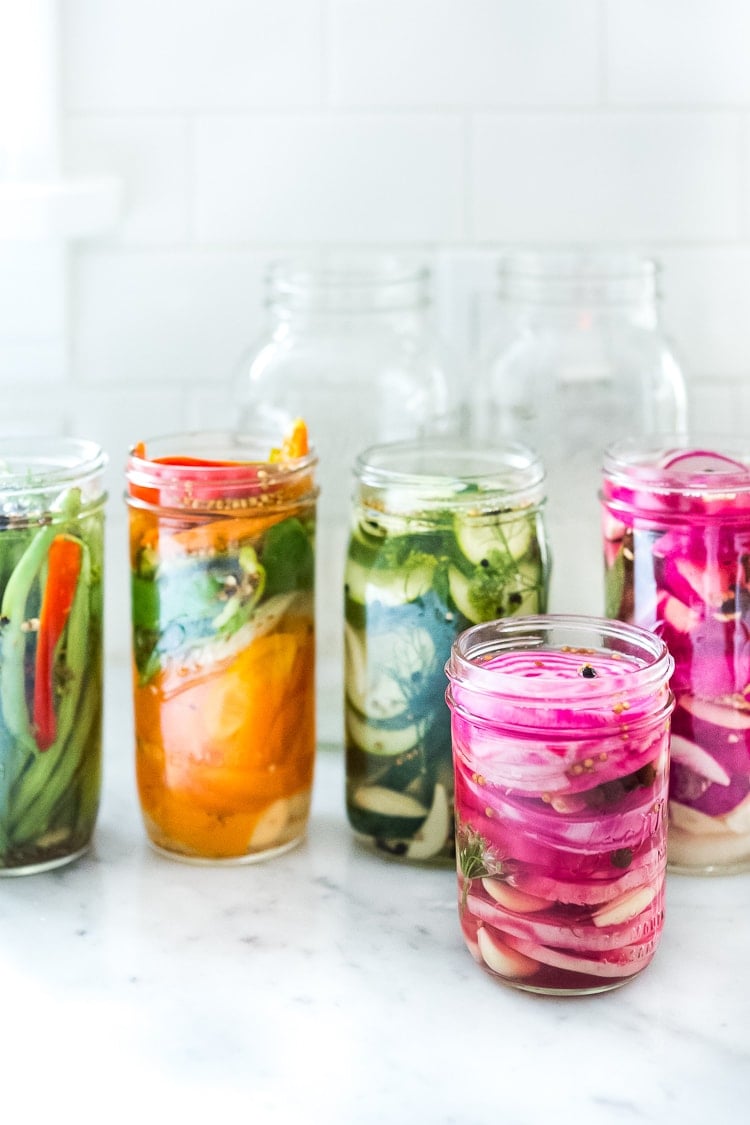 Quick Pickled Vegetables
These refrigerator pickles can be made with cucumbers, carrots, beets, turnips, radishes, kohlrabi, onions, cauliflower, peppers, asparagus or green beans A simple, delicious recipe that can be used with most any veggie!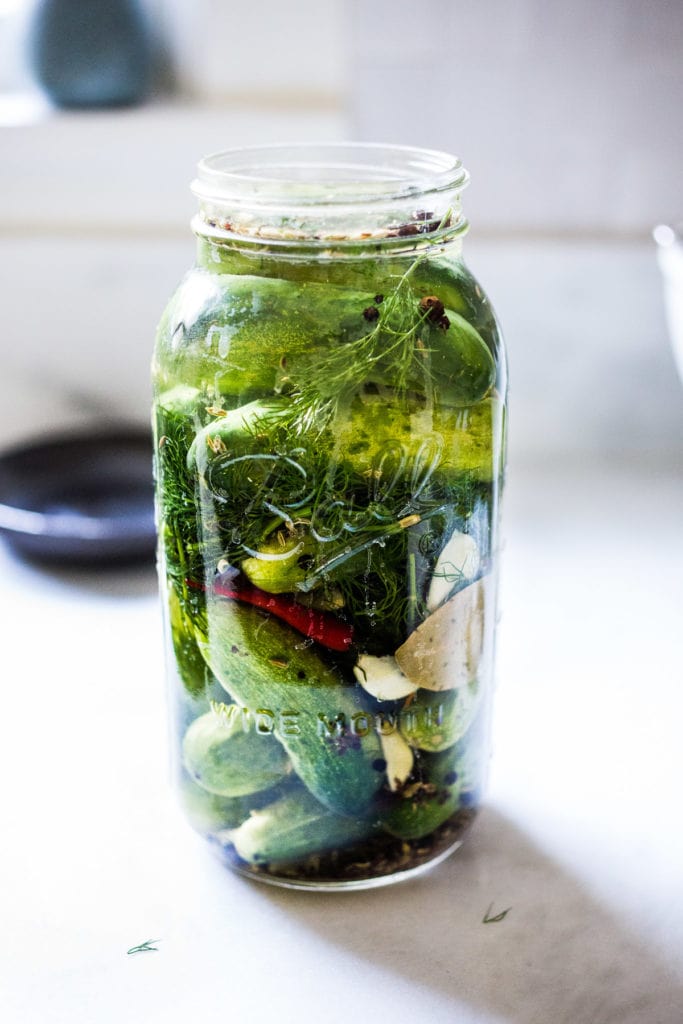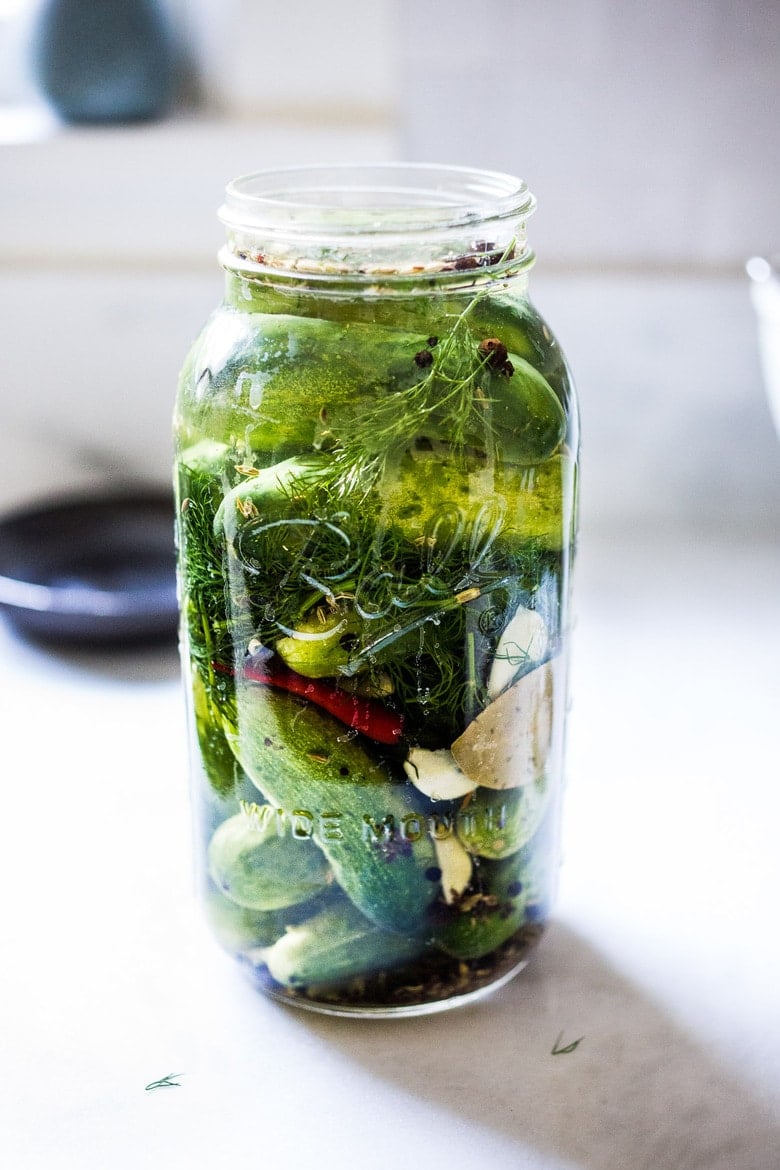 Homemade Dill Pickles!
How to make Manhattan-style, fermented Homemade Pickles with Garlic and Dill!  An easy step-by-step guide to making the most flavorful, crunchy, tangy pickles full of healthy probiotics, with only 20 minutes of hands-on time!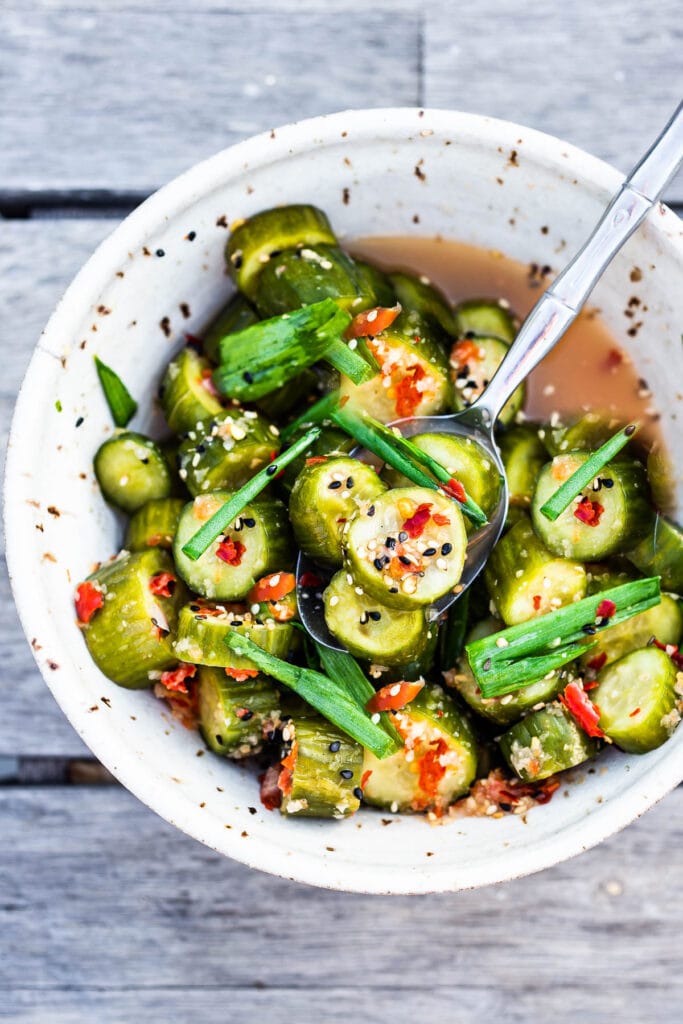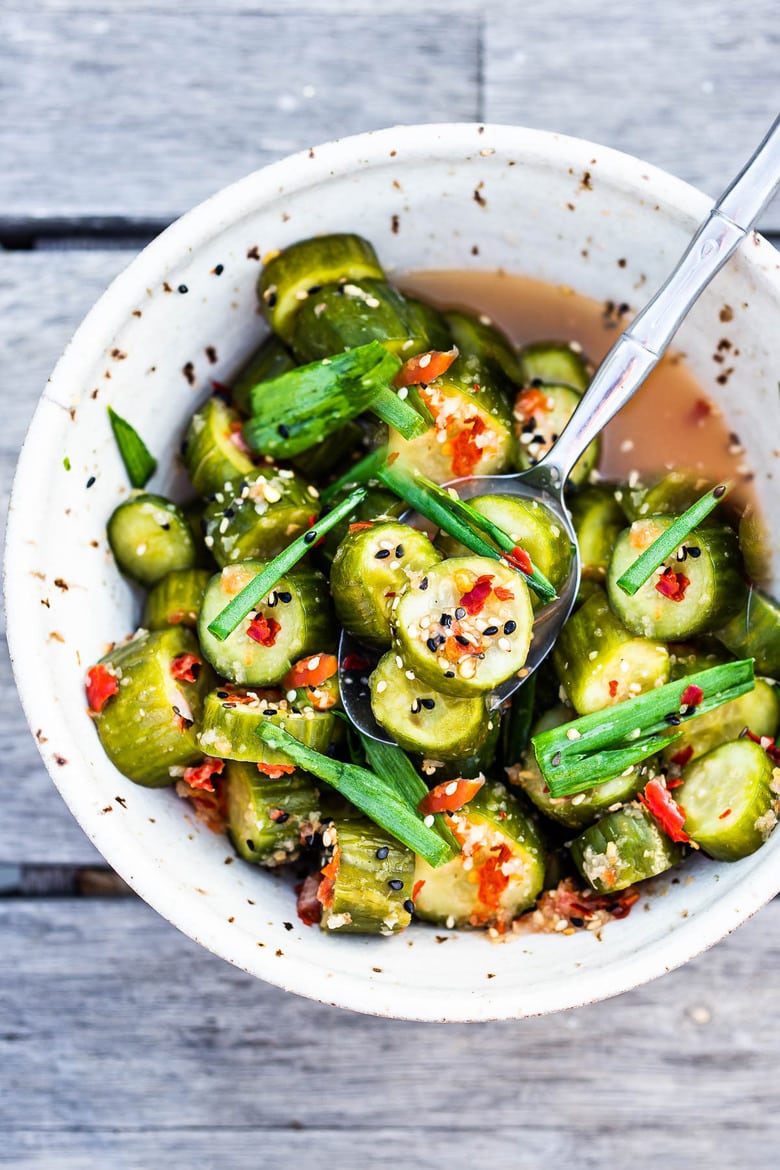 Cucumber Kimchi Pickles
How to make fermented Cucumber Kimchi Pickles in 3-5 days with 20 minutes of hands-on time! Easy to make and full of healthy, gut-supporting probiotics. 
We hope you enjoy these cooling Cucumber Recipes! Have a favorite? Please let us know in the comment section below!
xoxo
Sylvia
Print
20 Cooling Cucumber Recipes
Here is a collection of our favorite Cucumber Recipes to try this summer! Crisp, cooling and refreshing cucumbers are low in calories and delicious in many things: Simple Cucumber Salad
2

large English Cucumbers (or

6

Persian cucumbers) thinly sliced (skin on) see notes.

1/4

of a red onion, very thinly sliced

1/2

teaspoon salt, or more to taste

1/4 teaspoon

pepper

2 tablespoons

olive oil

2 tablespoons

lemon juice, lime juice or vinegar (more to taste)

1/2

cup

fresh chopped herbs -dill, cilantro, mint, Italian parsley, or basil (or use a combo)
pinch aleppo chili flakes or Urfa biber– optional
Instructions
Place all ingredients in a bowl, and gently toss.
Taste, and adjust salt and acid. You want this to taste flavorful!
The cucumber salad will keep 2 days in the fridge. 
Nutrition
Serving Size:
Calories:

91

Sugar:

3.3 g

Sodium:

295.4 mg

Fat:

7.2 g

Saturated Fat:

1.1 g

Carbohydrates:

7.6 g

Fiber:

1.1 g

Protein:

1.2 g

Cholesterol:

0 mg
Keywords: cucumber salad, easy cucumber salad,