These easy air fryer breakfast recipes will save you a ton of time the next time you cook up breakfast! Learn how to make comforting breakfast foods like pastry bites, toaster strudels, and cinnamon rolls, all in the air fryer. The best part is that all of these great recipes are vegetarian-friendly!
I use the air fryer often in my kitchen. It's one of my favorite handy appliances that cooks up crispy food, quickly and easily.
One of the best things is being able to use less oil than traditional frying methods. It's the perfect way to cook so many foods in my opinion!
I have a huge collection of vegan air fryer recipes and vegetarian air fryer recipes, but I wanted to have a special section of recipes dedicated to breakfasts.
Weekday mornings can be busy for most of us and since breakfast is the most important meal of the day, I wanted to have these recipes put together for anyone looking for inspiration.
Whether you are looking for ideas for an easy weekday breakfast to add to your morning routine or for special occasions, these delicious air fryer breakfast recipes are perfect for anyone looking to cook up a hearty meal in a fraction of the time.
Whether you're looking for breakfast side dishes or mains, this collection has something for you!
17 Quick Air Fryer Breakfast Ideas
Bagel and Scallion Cream Cheese Bites by The Sassy Foodie
These Dunkin copycat everything bagel and scallion cream cheese bites wrap up the best parts of a bagel and make them a convenient on-the-go breakfast idea. The best part is that they're freezer-friendly, and are made in the air fryer!
Check out this recipe
Air Fryer Tempeh Bacon with Stovetop & Oven Methods
This air fryer bacon (vegan style) is so delicious! Perfect for breakfast or for making BLTs, this tempeh bacon is easy and is a family favorite!
Check out this recipe
Air Fryer Puff Pastry Breakfast Bites by Budget Delicious
You don't have to travel to France to enjoy a delicious pastry. Enjoy these simple 2-ingredient Puff Pastry Breakfast Bites at home with a cup of coffee, and you will feel like you're eating breakfast in a Parisian café.
Check out this recipe
Air Fryer Blueberry Muffins by Fork to Spoon
Muffins make the perfect breakfast for anyone who's busy. These air fryer blueberry muffins come together in less than 20 minutes and are perfect when you have a sweet tooth!
Check out this recipe
Air Fryer Toaster Strudel by The Littlest Crumb
This easy air fryer toaster strudel takes 9 minutes to make! Crispy, golden brown and perfectly flaky on the outside. Soft and gooey on the inside. Enjoy these air fryer strawberry pop-tarts whenever you have a sweet tooth!
Check out this recipe
Air Fryer Pear by The Flavor Bells
The recipe might appear like a quickly fixed breakfast pear but it has enormous possibilities for decadence and indulgence. This healthy and delicious air-fried pear will satisfy your sweet tooth in a fraction of the calories. This is the best way to serve pears!
Check out this recipe
Air Fryer Toasted Coconut French Toast by Strength and Sunshine
The healthiest way to make French toast for breakfast! Air Fryer Toasted Coconut French Toast made without the oil and is a gluten-free, vegan, & top 8 allergy-free recipe you'll love! No soggy bread and only 4 ingredients to crisp coconut perfection! Optional: Slice them up and make air fryer french toast sticks! These are a big hit with the kids.
Check out this recipe
Air Fryer Cinnamon Rolls by Keep Calm and Eat Ice Cream
These air fryer cinnamon rolls are ridiculously quick and easy. With a tangy cream cheese glaze and sweet brown sugar filling, you can be munching on these delicious rolls in just fifteen minutes!
Check out this recipe
Air Fryer Biscuits by Aubrey's Kitchen
Enjoy these flaky biscuits quickly and easily with this air fryer biscuits recipe! Use canned biscuit dough to make easy biscuits any day of the week with this recipe!
Check out this recipe
Air Fryer Gluten-Free + Vegan Chicken & Waffles by Strength and Sunshine
Comforting American soul food made healthy and plant-based! This Gluten-Free Vegan Chicken & Waffles recipe is not only a meatless wonder, but allergy-free, oil-free, made with crispy air fried cauliflower "chicken" and fresh, fluffy, homemade waffles. Serve it with maple syrup and maybe some hot sauce for an ultimate treat!
Check out this recipe
Air Fryer Home Fries
Home fries don't get easier than this! With just a little prep work, you can have crispy potatoes ready for your family in under 15 minutes! Switch out russet potatoes for sweet potatoes to change things up!
Check out this recipe
Air Fryer Banana Bread by Easyflavorful
This delicious and moist air fryer banana bread make a perfect weekend breakfast. It is easy to make and take 30 minutes in air fryer to bake.
Check out this recipe
Air Fryer Hash Browns (Patties)
Air fryer hash browns are the perfect quick and easy breakfast, snack or side dish! Making frozen hash brown patties in the air fryer couldn't be easier! Trader Joe's air fryer hash browns are one of my favorite on-the-go breakfasts! Nothing is better than crispy air fryer breakfast potatoes!
Check out this recipe
Air Fryer Hard Boiled Eggs by Jersey Girl Cooks
Make ahead air fryer boiled eggs are perfect for easy breakfasts, or to pack on the go. This method of cooking eggs makes a hard boiled egg that is easy to peel and ready in under 20 minutes!
Check out this recipe
Air Fryer Granola by Instant Pot Cooking
This air fryer granola recipe has flexible ingredients which allows you to customize the calories and nutrients. The granola is vegetarian and can easily be made vegan. If you're looking for a simple recipe with a lot of healthy ingredients, give this one a try! I love this granola on busy mornings when I need a quick and healthy breakfast option.
Check out this recipe
Air Fryer Tater Tots
If you're someone who loves tater tots for breakfast, give these air fryer tater tots a try! These are one of my favorite easy air fryer breakfast recipes that cook up quickly. All you need is tater tots, olive oil spray, and seasoning. Top them with scrambled eggs and tempeh bacon to make a delicious air fryer breakfast bowl!
Check out this recipe
Vegan Air Fryer Omelettes by Vegan Dollhouse
This vegan version of egg cups is so delicious! These air fryer omelets are vegan, gluten free, and healthier than your average egg omelet.
Check out this recipe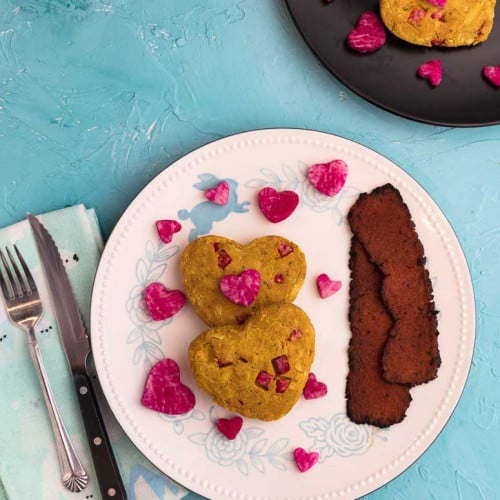 ©Watch Learn Eat. All content on this page is copyright protected and is not to be used or republished without prior permission. Images shown in this post are used with permission from the owner(s).